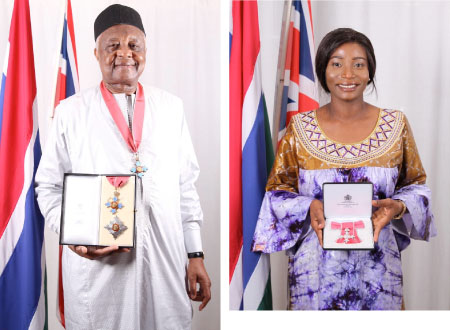 The British High Commission Banjul is delighted to announce that at a ceremony on Thursday 9th January 2020, Her Excellency Sharon Wardle, British High Commissioner presented honorary awards on behalf of Her Majesty The Queen to two Gambian nationals, in recognition of their outstanding service and ties to the United Kingdom.

Professor Tumani Corrah KBE (honorary Knight Commander of the The Most Excellent Order of the British Empire) has been recognised for services to medical research in sub-Saharan Africa, and Fatou Baldeh MBE (honorary Member of the Most Excellent Order of the British Empire) for services to women's health and to Black Minority and Ethnic communities in Scotland.
Professor Tumani Corrah KBE has had a profound long-term impact on the promotion of health in the poorest nations in Africa, by influencing governments to support health research and adopt its findings into healthcare; by bringing culturally divided Research communities together; and by leading charitable efforts in the field.
As the UK Medical Research Council's Director of African Research, Professor Tumani Corrah KBE has played a key role in promoting collaborations between indigenous medical research communities across Africa, with successful joint applications for funding.
Furthermore, he has driven forward the influential Medical Research Council African Research Leaders scheme aimed at securing the very best early career African medical scientists in low and middle-income countries in the region. These professional contributions will have a significant long-term impact on the promotion of human health in such countries.
Over and above his countless professional achievements throughout his career, and as an unprompted and personally altruistic initiative, Professor Tumani Corrah KBE has founded and secured diverse philanthropic support for the African Research Excellence Foundation charity - a new organisation that is already providing scholarships for early career African medical scientists, with great long-term promise.
Executive Chair of the UK's Medical Research Council, Fiona Watt, remarked that "It has been my privilege to get to know Tumani Corrah. His achievements in the field of infectious disease research are outstanding and his leadership of Research Development in Africa is remarkable. I would like to offer Tumani my heartiest congratulations on being appointed Honorary Knight Commander of the Order of the British Empire. This is well deserved recognition of his devotion to medical research".
On receipt of the award Professor Tumani Corrah KBE said
" Growing up, my mother was my first philanthropist: sharing whatever she had no matter how little with neighbours, friends and family. It was not until after I read a quote from Martin Luther King that I came to understand the reasons behind such generosity.
I quote:
Life's most persistent and urgent question is, what are you doing for others?
I wake up each day trying to find answers to this quote.
My eureka moment was when I founded the Africa Research Excellence Fund (AREF): a charity designed to nurture emerging African health researchers to lead research in Africa; research that will improve health, save lives and in turn make significant contributions to the Sustainable Development Goal 3. AREF provides stepping-stones to talented health researchers to grow and become independent researchers competent to win their own research funds, lead their own research teams and carry out research in Africa for Africa. As leaders, they will define Africa's health research agenda and lead on identifying the continents health research priorities. I am happy to note that with the support of my excellent team, philanthropists and research funders we are already contributing towards improving health and saving lives in West Africa and globally
AREF has provided me with the opportunity to bring together my experiences as unit director, scientist and clinician to benefit humanity.
I humbly accept the honour bestowed open me and grateful to all who made this possible."
Fatou Baldeh MBE has been recognised for her exceptional contribution during her time living in Scotland where she became an outspoken voice on preventing Female Genital Mutilation (FGM) among practising communities in Scotland as well as arguing strongly for well-trained services to respond to the needs of those who have already had FGM.
Through her ground-breaking research, voluntary work with the Dignity Alert Research Forum and collaboration with the Equal Opportunities Committee and the Violence Against Women Fund in Scotland, she had direct impact and influence on policy decisions and actions to uphold the dignity and human rights of African women, children and young people.
Her voice, interventions and actions have touched the lives of many in Scotland and she continues to provide a committed, loud and passionate voice for many of the most marginalised in society.
On receipt of the award, Fatou Baldeh MBE commented
"I am deeply honoured and privileged to be recognised by Her Majesty the Queen, for doing work I am passionate about. This award has energized me to continue working, through "Women in Liberation and Leadership- WILL" an organisation I set up with the aim to empower, promote and protect the rights of women and girls in The Gambia. Through WILL I continue to work on addressing violence against women and girls and providing information and services on sexual and reproduction health and rights. My vision is to see a world where women will feel empowered and confident to be who and what they want to be; a world where young girls and women will dare to dream without fear of being violated and a world where women have equal opportunities to fulfil their dreams"
Background to the UK Honours System
As 'fountain of honour' in the UK, The Queen has the sole right of conferring titles of honour on deserving people from all walks of life, in public recognition of their merit, service or bravery. This includes honorary awards to non-British nationals who through their ties to the UK have made an outstanding contribution.
Throughout history, monarchs have rewarded those who have shown service, loyalty or gallantry with gifts or titles. Until the beginning of the nineteenth century, only members of the aristocracy and high-ranking military figures could be appointed to an Order of chivalry, but from then onwards appointments were drawn from a wider variety of backgrounds.
Nowadays the Honours system rewards service in a wide range of areas, recognising outstanding individuals in their respective fields.
Read Other Articles In Article (Archive)