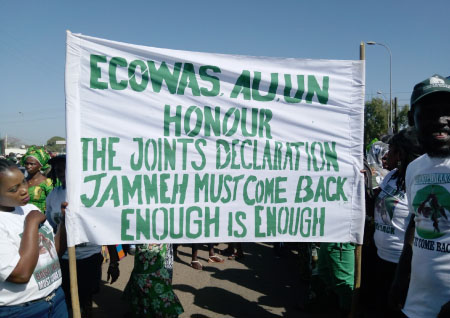 Thousands of supporters of the former ruling Alliance for Patriotic Reorientation and Construction (APRC) on Thursday morning gathered at the Sukuta/Jabang intersection and protested, demanding the unconditional return of former President Yahya Jammeh.

Yahya Jammeh is currently in Equatorial Guinea on exile after losing the 2016 presidential election to coalition candidate, Adama Barrow.
APRC supporters are calling on ECOWAS, AU, European Union and the government of The Gambia to respect the joint declaration which they claimed was signed in 2017, which gives Jammeh the right return to the country anytime he wants.
Protesters carried banners with different inscriptions: "Enough is Enough Babili Mansa Must Come Back; European Union Hands Off Gambia; Respect the Joint Communiqué and Agreement is Agreement; The Joint Declaration Must be Implemented and Now, European Union Stop Looting our Fisheries Resources among others.
Fabakary Tombong Jatta, the Interim Leader of the party after handed over; saying "the 2016 was the Presidential Election and that Gambian people went to the polls to elect their leader. However, when the final results were announced many couldn't believe the dust of the point which resulted in the announcement of two results."
The unfolding event after words, he said, had the potential to result to serious political and civil crisis. The evolving political situation during the time, Mr. Jatta continued, attracted attention both within and outside the Gambia; hence different thoughts on how to resolve the impasse emerged, citing interventionists and legalists among others.
The APRC leader said the interventionists privileged the use of external intervention to forcefully remove President Jammeh from office without granting him much of a leeway. "This perspective believes the threat of actual use of force or sanction against former President Jammeh is critical to ending the political deadlock."
The Concessionists, he added, advocated for constructive engagement with President Jammeh with a view to convincing him to step down, saying this perspective didn't accept military intervention as the best option, thus it therefore showed persuasion as critical to peaceful resolution of the dispute.
According to him, the legalists upheld the rule of law as central to ending the political jock-jack. The perspective recognised the sovereignty of The Gambia as panacea of the law in resolving the impasse.
"A combination of consensus by ECOWAS, AU and UN convinced former President Jammeh to exit power."
He maintained that the APRC as a party therefore wish to acknowledge and salute the tremendous efforts underscored by former President Jammeh's goodwill and statesmanship. He sided with the greater interest of Gambian people in order to preserve the peace, stability and security of the Gambia. It was also to maintain the sovereignty and integrity and the dignity of The Gambian people.
"In these circumstances, we the members of APRC on our accord demand the full implementation of the joint declaration regarding the unconditional and immediate return of Yahya Jammeh," he told journalists in an interview.
Read Other Articles In Article (Archive)