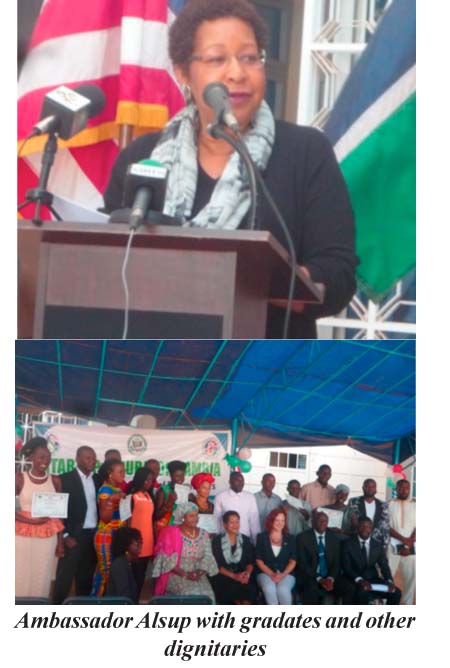 The Ambassador of the United States in Banjul, Patricia Alsup, has said given the complex global challenges that continue to depress national economies around the world, helping youth start new businesses can spur rapid economic recoveries.
Ambassador Alsup made this remark yesterday at the MSTE building, during the first graduation ceremony of 20 young Gambian entrepreneurs trained at the Startup Incubator Gambia.
She said youth entrepreneurship is even more necessary in the face of the current rising unemployment in Sub-Saharan countries, which has continued to sadly force many of the continent's able-bodied youths to take risky ventures in search for better lives in Europe.
"It is, therefore, critical not only that the overall business climate improves, but that we motivate, inspire, and capacitate youths through initiatives like the Startup Incubator," the US ambassador said.
She continued: "Young people represent today's generation as well as the future, and it is our collective responsibility to empower them now with relevant skills that will leverage economic stability in the foreseeable future.
"Young people have lots of ideas, but too often find it difficult to take those first important steps. It's hard for them to access capital and hard to find the training and the skills they need to translate their ideas into professional practice. That is why the Startup Incubator is here – to fill those gabs by providing those essential services."
Entrepreneurship has almost limitless powers to bring about necessary progress, she went on, adding that entrepreneurship means ownership and self-determination, as opposed to simply being dependent on somebody else for one's livelihood and future.
"Entrepreneurship breaks down barriers between communities and cultures and builds bridges that help us take common challenges together," noted Ambassador Alsup, who said she was an entrepreneur earlier in her career, before she joined the Foreign Service.
"The U.S. Embassy will continue its support to the Startup Incubator," she said. "The goal of this project, financed to the tune of US$149, 000, is to reach between 50 and 100 youths from throughout the country. We are half way to the target, and I am convinced that we can achieve that goal.
"However, continued partnership and commitment to the spirit of entrepreneurship and progress will be required for successful completion of the project."
She said further that the incubator's most recent activities include, but not limited to, seed funding disbursed to seven incubator businesses and a signed partnership with the Gambia Chamber of Commerce and Industry (GCCI).
She said they are aware that the recruitment drive for the next batch of young aspiring entrepreneurs has just concluded in the Greater Banjul Area, and has opened for youths in North Bank and Central River regions.
She also pointed out that they hope more women in these rural communities will be selected, adding: "This emphasis is not just a token in observance of Women's History Month, but because of the convincing fact that women continue to be great powerhouses in driving economic growth around the world, as well as reducing household poverty in the least developed countries."
Ambassador Alsup challenged the private sector to support the incubator initiative not only for sustainability purposes, but also to continue creating the next generation of Gambian entrepreneurs, "so that the whole country can benefit from their energy, creativity and drive".
"They are the ones who will drive The Gambia's economic future. They are the ones who will create the jobs to keep youths from seeking the back way. They are the ones who will make this country great." 
Read Other Articles In Article (Archive)