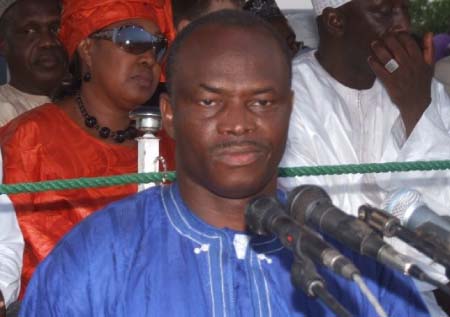 Lamin Sanneh, Governor of West Coast Region, has said that health promotion is critical to national development, adding that health is everyone's concern, so there was need for people to promote it in their individual capacity.
Governor Sanneh was speaking recently at the opening ceremony of the 5th Annual Music and Cultural Festival, the Briks-Tone Fiesta, organised by the Badinyaa One Family Promotions Production in Brikama, The Gambia and Stand Tall Promotions in Glasgow, Scotland, at the Governor's office in Brikama.
This year's theme is "Promote health, enhance development" and it was intended to raise funds for the Brikama Major Health Centre (BMHC), as part of Badinyaa's endeavor to promote health.
He added that the fiesta would also serve as a benchmark for health promotion and bring people together from different background to cherish love and unity. Governor Sanneh said Badinyaa support towards Brikama Health Centre was highly recognised and assured them of their supports at all times.
"Government and health workers cannot do it alone. It needs other organization like you to come onboard as health is everyone's concern," he said.
He urged other youths to emulate Badinyaa noble cause toward complementing effort in quality health care delivery to the doorstep of every Gambians.
Mr Ngally Aboubacarr Sambou, Regional Director of Health Services, said since health was everybody's business, Badinyaa are right for picking health promotion as a pivotal element to national development.
He quoted Sanskrit saying: "Let all be happy, let all be healthy, and let nobody suffer in the world. Let all my actions eloquently speak towards this end." He told Badinyaa volunteers that their organization comprises of youths, committed to humanity, particularly in the promotion of health which is indeed noble and selfless.
"Your beliefs and ideals for enhancement of humanity have potential to bring improved economic and social development even in rural community. Your ideals could be attributed with a statement made by the former UN Secretary General, Dag Hammarskjold, who stated: "No life was more satisfactory than one of selfless service to your country or humanity."
"This service requires the sacrifice of all personal interests, but likewise courage to stand up unflinchingly for your convictions," he stated.
He pointed out that Badinyaa investments in health are increasely recognised as an important means of economic development and a prerequisite for developing countries in particular for poor people within those countries to break the cycle of poverty.
"It is evidence that your investments in health have positive economic return. You may think that your organization is doing small, but indeed a great for it is an investment, a selfless investment towards contributing to healthy state of communities, families and individuals with a multiplier effect for socio-economic development," he said.
Mr Sambou said Badinyaa's efforts towards health promotion activities focus on disease prevention, eradication for a healthier population and this has another potential to help attract private investors and also encourage tourism.
"No nation can achieve meaningful development in all its dimensions without a healthier population, and therefore your strives as youth organization committed to contributing towards improvement of health care in collaboration with health professionals," he said.
He indicated that health workers could not do it alone, for health workers to be successful they have to partner with organizations like Badinyaa.
Alieu Darboe, National Coordinator of Badinyaa, said they have been rendering community services to the Brikama Major Health Centre through cleaning exercise.
He said since its inception, they had been donating sanitary and other items to the facility to complement government effort in the improvement of quality health care delivery service.
"Our slogan is 'A healthy nation is a wealthy nation.' We will continue to promote the slogan for quality health at the Brikama Health Centre," Darboe said.
According to him, the theme for this year fiesta 'Promote health enhance development' came at a when the West Coast Region is moving for the millennium development goals in health, education, environment, and agriculture, so it is befitting to have such a theme as volunteers who are very devoted to the cause.
He added that Briks-Tone Fiesta consists of both local and international artists and it held every 17 February show volunteers commitment and love for the Gambia eve of independence.
"It is intended to raise funds for the Brikama Health Centre, promote health, culture and Gambia music talents, especially upcoming artists," he stated.
Read Other Articles In Article (Archive)