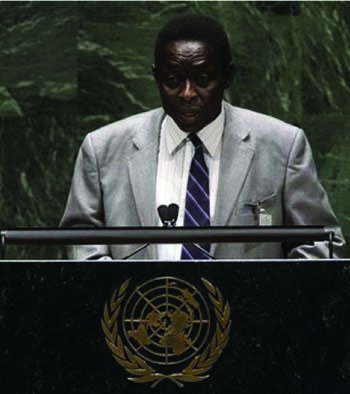 Information reaching The Point has revealed that the Minister of Health and Social Welfare, Dr Abu Bakarr Gaye, died yesterday evening.
The late Dr Gaye, who was appointed Minister of Health and Social Welfare in October 2009, died on 2 December 2010. His remains will be laid before the National Assembly at 10am today for people to pay their last respect to the deceased.
Prior to his appointment as minister, Dr Gaye was self-employed as Rural Medical Service provider at Barra Point. He also worked at the Ahmadiyya Hospital in Tallinding and once served as Chief Medical Officer, among others.
Born on 26 September 1951, Dr Gaye was a highly qualified General Practitioner with an in-depth knowledge of tropical medicine.
With more than 30 years experience in West Africa, the late Dr Gaye maintained proven leadership, management and training skills in developing and motivating teams to achieve their objectives.
He was an effective communicator with the ability to communicate precisely and concisely in English and French. He was also fluent in several West African languages as well as having a good knowledge of Russian language.
Tenacious and enthusiastic with proven ability to work accurately under pressure and extremely difficult circumstances, the late Dr Gaye was able to adapt effectively to different situations and requirements.
He was also intellectually curious and consistently maintained a high degree of professionalism, with very strong analytical sense of judgment and problem-solving skills.
The late Gaye got his doctorate degree in General Medicine at the Patrice Lumumba People Friendship University in Moscow, where he studied from 1967 to 1973. From 1967 to 1968, he obtained his A'Level at the same university.
Between 1960 and 1965 he did his O' evel at the Maburaka High School in Sierra Leone.
The late Dr Gaye was married with children.
Read Other Articles In Article (Archive)