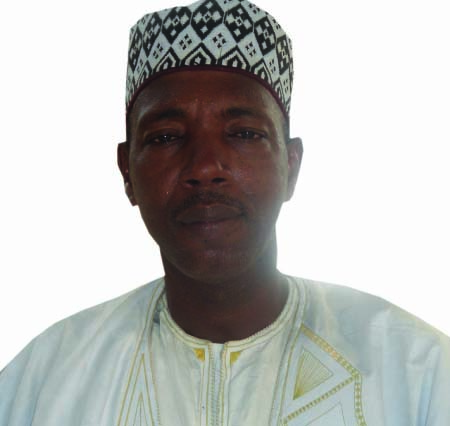 Independent candidate Hamat Bah has told the electorate in the villages of Ballanghar and Kaur in the Central River Region and Sutukonding, Wuli West in the Upper River Region, that if given the mandate to steer the affairs of this country, youth employment and education will be among his top priorities.
Bah who was addressing meetings in Kaur, Ballanghar and Sutukonding as part of his campaign for the presidential election, said his government will make education accessible to all Gambians and provide employment opportunities by building local industries that will create jobs for the youth.
"If elected into office, my government will also put an end to the entire problems and suffering of Gambian farmers, youth and the women, who are facing lots of hardship under the current APRC regime," he said, adding that it is left to Gambians to save themselves from their suffering by voting incumbent President Yahya Jammeh out of office.
According to Hamat Bah, who is standing as an independent candidate under the banner of a United Front of four opposition parties, the APRC leadership is giving out millions of dalasis to a few people while the majority of Gambians are suffering with no medicines in the hospitals.
"Some of your villages are even without clean drinking water, have a poor road network and there is no money for government to buy what the farmers are producing," Bah told the rally attended by mainly youths and women.
"November 24th will mark the end of the suffering that Gambians have been facing for the past 17 years. The chains of slavery will be cut off from your necks, and a United Front government, which I represent, will put an end to bad governance and uplift you from poverty," Bah added.
"Jammeh said it here that if Gambians do not go back to the land a bag of rice will reach to one thousand dalasi. Let me also tell you that if Jammeh is not voted out of office, a bag of rice will reach one thousand dalasi," he said.
He added that if elected, his government will build 200, 000 houses for the armed and security services and civil service on loan basis, and will make best use of the River Gambia by introducing irrigation systems around the country to make farming all-year-round.
Calling on Gambians to vote for him, Bah said his government will respect the rule of law and promote press freedom.
Also addressing rallies in Sinchu Sanjal, Ngain Sanjal and Ballanghar was Hon. Sidia Jatta of NADD, which is also part of the United Front.
Jatta said this year's election will be different from others, as it is the Gambians themselves who asked the opposition to come together and put an end to the APRC government.
He told to the electorate that Hamat N.K. Bah is an independent presidential candidate selected and representing the Gambian people to end Jammeh's 17-year rule.
"Bah is not a candidate of any political party, but a candidate of the Gambian people as he was elected by the people from all seven regions of The Gambia. That is why he stands as an independent candidate," he explained.
Jatta assured the people of Sinchu Sanjal that, if elected, a Bah-led government will put an end to all "difficulties" they are facing for the past 17 years.
Noting that change is possible, if people really want change, Sidia Jatta told the electorate that a president is a servant of the people, as he is elected to protect and safeguard the interest of the people and is paid by those people for the work he is doing for them.
"But if any President failed to safeguard and protect the interest of the people, you have the right to vote him out. President Jammeh is paid D252, 000 every month, and any project he implemented is either on loan or grant basis. Where is the tax payers' money?" he asked.
"The Gambia currently owes 16 billion dalasi internationally and 9 billion dalasis within the country, and every Gambian, even a day-old born baby, has this loan around his/her neck. Where is the D4.5 billion national budget collected from farmers?" Jatta enquired.
He said the APRC government has taken loans in the name of Gambians to develop certain areas to reduce poverty and hunger, but still Gambians are getting poorer every day.
Omar Saidy Ann of Sinchu Sanjal expressed, on behalf of his village, their loyalty to Hamat Bah and the United Front, while assuring them of a landslide victory.
He told the rally that Gambians have long experienced hardship, but electing Hamat Bah into office will bring an end to such hardship.
At another rally in Balangharr, youth leader Katim Touray said they were in darkness, but now they have seen the light and will rally behind Hamat Bah and the United Front.
According to him, farmers are the poorest people in The Gambia, as they have been neglected by the APRC regime.
Noting that farmers lack fertilizers, farming implements among others, Touray called on Gambians, especially people from Lower Saloum district, to think twice and vote massively for Hamat Bah.
Also addressing the rally in Kaur, was Dulo Bah, the acting-Secretary General of the National Reconciliation Party, which is a member of the opposition United Front.
He told the electorate that after 17 years of leadership, the Jammeh administration cannot still stabilize the prices of basic food commodities.
Alhagie Jambo Camara of Sutukonding also assured Hamat Bah and the United Front of their loyalty.
Other speakers included Amie Sabally and Saloumba Sissawo, who all expressed their willingness to rally behind Hamat Bah, assuring him of a landslide victory.
Read Other Articles In Article (Archive)