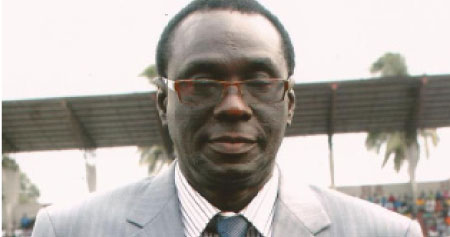 With just about a month to go before the much expected Gambia Football Association, GFA, elective congress, the only publicly known presidential aspirant, so far, Halla Samba of Wallidan, has renewed his campaign for the country's most influential sports job, by issuing his manifesto, detailing a 37-point action plan.
In the document, available exclusively to The Point, the Wallidan president, and one of the most successful coaches in Gambian domestic league, expressed his desire to turn the GFA into an example to football associations in Africa, by transforming and elevating Gambian football to world class standards, through the creation of a very competitive and dominant national league and powerful national club teams which would be able to compete at elite tournaments in the continent.
In addition, Mr Samba said he wishes to develop all levels and stages of Gambian football, through the establishment of a solid grassroots' foundation that will pave the way for better standards, both locally and at the international level.
Ever since he hit the headlines by declaring his ambition to run for president of the GFA, last August, Halla Samba, remains the most talked about personality in football politics, with no other possible candidates joining the fray yet.
Meanwhile starting today, The Point will run a special coverage of the GFA elections, with interviews, manifestos and views of would-be aspirants for the GFA presidency.
Read the full text of Halla Samba's manifesto, the first among others expected to be featured in The Point in the build up to the GFA elections, scheduled for March 30:
Strategies
Build a solid foundation for the sport by starting with the grassroots.
Development of the 16-19 as a priority to enhance playing standards, practicable by involving educational institutions.
Coaching
Review and redefine the playing, coaching and refereeing pathways at all levels to ensure that coaches have all the necessary qualifications at each level of the football pyramid, as well as setting coaching qualifications in the league entry criteria.
Put in place a National Coaching Data base, and a National Coaching Plan that will seek to promote education and accreditation programme to all providers to enhance the player experience, and structured in a manner that will meet the demand of elite coaches.
Refereeing
Establish a referees' education structure specifically targeted at the demands of elite referees, as well as promoting a consistent referee education and accreditation programme to all providers to enhance player experience.
Develop and put resources to support appropriate national and regional local opportunities to towards improving the playing, coaching and refereeing pathways.
Talent Identification
Undertake research to study high performance programmes implemented in other countries with a view to determining the components and delivery mechanisms (including funding) of the high performance.
Determine the components and structure of talents identification and programme and its implementation within the framework of high performance programme.
Inspect and assess all current and prospective football academies to ensure that they are up to par with all areas, and meet set quality standards, as well as ensuring that schools and academies  have adequate facilities and resources needed to properly train and develop youth talent. The above can also be achieved by rationalizing academies and providing increased funding to them to ensure that training and games programmes are enhanced.
Grounds and Facilities
Devise a consistent minimum standard for grounds and facilities development, as well as undertake advocacy role with national, local and major regional bodies to promote the need for investment in football facilities.
Develop with key partners a National Football Center to support the delivery of our objectives for coach education and player development, in addition to promoting the development and maintenance of 3G artificial pitches, where appropriate, for new and existing community facilities.
Lobby national and local government to improve school facilities for wider community use.
Competitions
Conduct a national review of competitions and play a greater role in the organization of Nawettan competitions, make them much more structured tournaments and use them as a medium for young footballers to showcase their talents, with meaningful rewards and a chance to be discovered.
Make the transition from Nawettan teams and academies to senior clubs as seamless and less cumbersome as possible.
Provision of age and ability, criteria in relevance to entry into local and regional competitions at youth, senior men and womens' levels.
Media
Make maximum and effective use the media to popularize and bring greater attention to Gambian football competitions, especially the national league, which would enable the   marketing of the Gambian game via all media channels to attract sponsors and investors to the sport.
Improve the profile of Gambian football by building a national team that will qualify to compete in the Caf African Nations Cup and the Fifa World Cup. Publicity is also earned through the building of national club teams that will compete in the Wafu and Caf club champions' league.
Financial management
Put in place a sound and best practices financial systems and process that will ensure thorough monitoring and reporting of financial transactions of the GFA.
Optimize resources across the game so that financial surpluses  are expected  and achieved, in addition to the provision quarterly reporting of financial performance and the creation of partnerships with the public and commercial sectors.
Read Other Articles In Article (Archive)