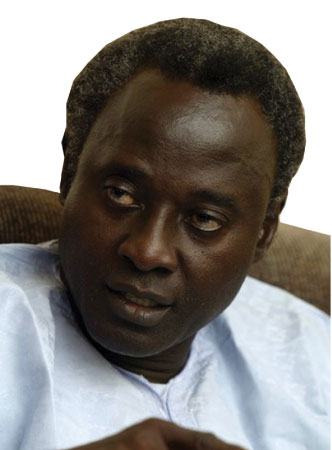 If any political party leader ever says again that PDOIS is an enemy of the coalition, the PDOIS would reveal the amount it contributed to the coalition campaign budget and compare that to the contribution of the party concerned.

These were the words of Halifa Sallah, when he addressed the press, not in his capacity as the spokesperson of the coalition but as the secretary general of his People's Democratic Organisation for Independence and Socialism (PDOIS) party.
Speaking at a press briefing held at the PDOIS bureau on Saturday, after the nomination of the party's KMC candidates which include Mr Sallah himself, the PDOIS secretary general said: "PDOIS will no longer compromise the truth; we have been patient with the truth. Deception is no longer possible. I must say that I will not tell you the figures, what PDOIS deposited for the deposit of the presidential candidate, what PDOIS contributed to the campaign, the funds that PDOIS mobilised for the campaign. If any leader ever said again PDOIS is an enemy of the coalition, we will reveal what those figures are compared to what they have done."
Mr Sallah said when the party leaders continue to make remarks against his party, he would rebuff that with his might and every command, and eventually those giving unfounded information would be discredited.
"Anybody who perpetrates this act of promoting fictions as facts will be exposed and discredited," he said.
He continued: "The presidential candidate of UDP won and we accepted it. If you want the presidency and you have it, what more are you asking for? Although, we don't see him [President Barrow] that way, they [UDP militants] are the ones trying to make him president of a party.
"You have the president, what could be more than that in politics? So it means that the so-called small party has given you the presidency, what more do you want? What are you complaining about? You are not complaining about substance, you are only complaining about processes. What is the importance of processes, when it has given you substance?
"If other parties are mighty, why did they accept to be part of the coalition, they could have left and go on their own and show their might in politics.
"When the [then] incumbent refused to step down and the coalition was just waiting calmly for January 19, where were [the big] political parties? What did they do to liberate us at that moment? Why were we not saved by our saviours at that moment because that is when we needed them the most?"
Read Other Articles In Article (Archive)