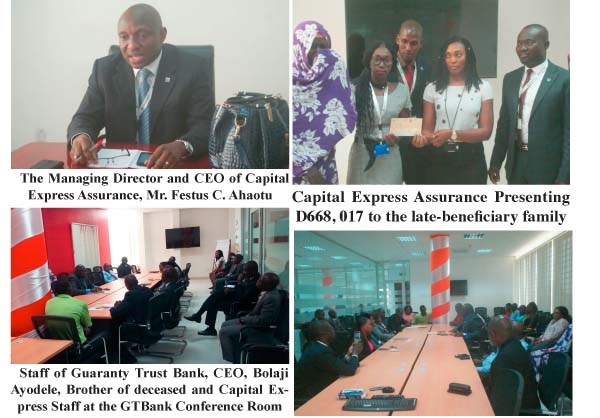 Capital Express Assurance (Gambia) Limited, a leading Life Assurance Specialist Company in The Gambia, recently presented more than half a million Dalasis to the beneficiary family of a late employee of Guaranty Trust Bank, who made claim to their Group Life Assurance Policy or Death-In-Service Benefit Scheme, at a presentation ceremony held at Guaranty Trust Bank conference room on 9 March 2017.

Capital Express Group Life Assurance Policy or Death-In-Service Benefit Scheme was designed to provide for the payment of capital sum (sum assured) to the dependants of an employee who dies while in the service of the employer.
This scheme is open to all employers of labor with five employees and above in the country.
Capital Express Assurance (G) Ltd pioneered this innovative scheme and holds an exclusive leadership position; with a reputation for superior service delivery, a history of prompt claims settlement and unmatched professionalism in the insurance industry.
D668,017 was presented to the late beneficiary family, as a result of the Group Life Assurance Policy Scheme which Guaranty Trust Bank entered into with Capital Express Assurance on behalf of their GTBank staffs.
Omar Mboob, Head of Finance at Trust Bank Limited and a brother to the deceased, expressed his deep appreciation to Capital Express Assurance and Guarantee Trust Bank and their staff association for the ceaseless supportive efforts they have been rendering to the family.
He assured them the funds will be judiciously spent for the proper maintenance and upkeep of his deceased brother's family.
The Managing Director and CEO of Guarantee Trust Bank, Bolaji Ayodele, in his remarks, commended Capital Express Assurance for the speedy and timely deliverance of the claim.
According to him, they entered into agreement with Capital Express Assurance to put the Group Life Assurance Policy in place not because they expected fatalities but to cover for eventualities of any sort, which might arise out of the blue.
For his part, the managing director and CEO of Capital Express Assurance, Festus C. Ahaotu, said the claim presentation was a clear manifestation of their commitment to the fulfillment of their goals and targets to eradicate poverty in the society.
He said the money they provided to the deceased family was aimed at meeting some of the financial needs of the bereaved family in the absence of their breadwinner, who was entitled to their Group Life Assurance Policy as an employee of GTBank.
According to Mr Ahaotu, the scheme ensures and guarantees that should they lose an employee, a certain amount, usually a multiple of salaries or 2-year salary or as proposed between the two organizations, Capital Express should pay the said amount to the family of the deceased.
''That is why it is a project we are trying to sell to every entity. GTBank is not the only institution actually in this scheme, there are others and we are even trying more institutions.'' the Capital Express MD said.
''It is also a way of letting other organizations and individuals to realize we don't just speak grammar or shy away from paying claims," Mr Ahaotu said, adding that they always pay and fulfill their obligations when a claim falls on an individual or institution.
Kalilu Bah, Head of Technical Operations, and Victor Abu, Head of Retail Business at Capital Assurance, expressed their heartfelt condolences to the family of the deceased and heaped praises on GTBank for taking up the initiative to set up the scheme for their staff.
Capital Express Assurance offers a host of innovative and life assurance schemes such as the group life/death in service scheme, Capital Express Universal Life Assurance Policy (CULAP) and Guaranteed Tuition Protection Plan (GTPP), Student welfare Insurance Scheme (SWIS) and Mortgage Protection Assurance Plan, which are all customized to offer a unique combination of insurance protection and capital accumulation while also giving one the opportunity to choose benefits in accordance with his financial capabilities and needs.
Mawudey Kurang, Group Business Division at Capital Express Assurance, called on other institutions and corporate entities to establish the scheme as it gives their employees peace of mind which would also serve to motivate them thereby increasing their productivity in the workplace.
According to her, the payment of the death claim benefit at GTBank is not the first of its kind that Capital Express Assurance have made since its inception in 2008.
She said further that similar high profile presentations of claim payments had taken place in other organizations where the scheme is in place.
''Our clientele consist of all sectors, including individuals from different walks of life, such as corporate entities and the military forces. Mrs Kurang said.
Read Other Articles In Article (Archive)