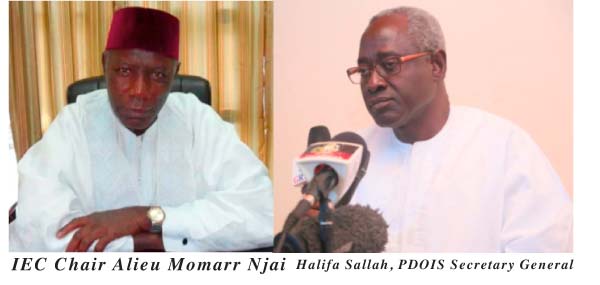 Halifa Sallah, Secretary General of the People's Democratic Organisation for Independence and Socialism (PDOIS), has threatened to file petition against the Independent Electoral Commission (IEC).

Mr Sallah, who is the PDOIS candidate for parliament in Serrekunda constituency in the April 6 National Assembly election, disclosed his intention to file the petition at a press conference held yesterday at the PDOIS office in Churchill's Town, Serrekunda.
Sallah said people are aware that there is no television or radio coverage of the whole process of the elections as far as the State media GRTS is concerned, when section 41 of the Gambia Constitution guarantees equal access to facilities and the media by candidates under the public elections Act.
He further stated that the Act of the National Assembly can also be enacted to provide public access to facilities or the media.
"Section 93 of the Election Act makes it mandatory for the Independent Electoral Commission during an election campaign period to ensure equal access, as far as time is concerned, to each candidate and political parties on the radio and television, which is mandatory for them but none of this is happening," he said.
Sallah threatened to write to the IEC if they didn't take any urgent step to address the issue, as it is a violation of their rights as candidates to be heard over radio or television, for the public to hear and see them all clearly.
Under section 89 of the Constitution candidates are given rights of protection by the Independent Electoral Commission during political campaigns and are entitled to launch complaints at the IEC for any violation of their rights.
Sallah said the IEC is duty-bound to enforce the elections campaign ethics and to ensure candidates are protected from any abusive remarks or any insults during political campaign.
"It is important to bear in mind that the IEC is required under section 92 of the Elections Act to prepare code of conduct which all candidates should receive 15 days before the campaign period, indicating the moral and ethical conduct they should adhere to in carrying out their campaigns," Sallah explained.
"Therefore, it is important that the public is informed by the candidates and the IEC of the essence of such code of conduct so that the public is provided with quality campaign messages on the basis of which they are able to make their choices."
The PDOIS secretary general also warned political parties and their candidates to avoid any character assassination, saying: "During campaigns you will hear accusations of people not being born in a particular constituency; some are even telling people to go back where they were born to be able to contest elections."
Read Other Articles In Article (Archive)