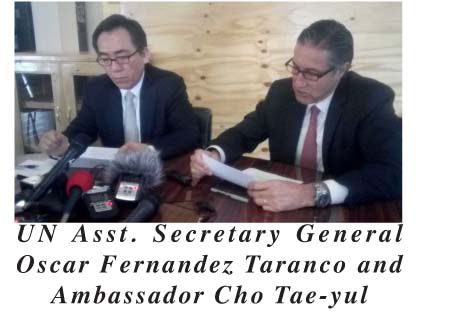 The United Nations Peacebuilding Fund has allocated an initial sum of US$3 million to the Gambia government for sustaining the peace in the country.

United Nations Assistant Secretary General for Peacebuilding Support, Oscar Fernandez-Taranco, who is accompanied on a visit to The Gambia by the chair of the United Nations Peacebuilding Commission, Ambassador Cho Tae-yul, said their meeting yesterday with President Adama Barrow had provided an opportunity to assess first-hand the peace-building challenges and discuss concrete ways to support the country's ongoing sustaining peace efforts.
Their mission also served as a follow-up to the recent joint visit of the United Nations Under-Secretary-General for Political Affairs, Jeffrey Feltman, and Special Representative of the Secretary-General for West Africa, Mohamed Ibn Chambas, he told journalists at a press conference held yesterday afternoon at the UN House in Cape Point, Bakau.
Mr Fernandez-Taranco also said that prior to their meeting with President Barrow, they had meetings with some government officials on strategic areas of peacebuilding efforts.
"We also met the Chief Justice and the leadership of the Defence and the Security Forces, including the Chief of Defence Staff and the Deputy Inspector General of the Police, where we exchanged views with the Independent Electoral Commission and representatives of Civil Society Organizations, the Diplomatic Community and the United Nations Country Team."
The key focus of the mission, he added, was to discuss the details of the initial support to be provided by the UN, based on recommendations of previous UN missions, including the recent mission by Under-Secretary-General Jeffrey Feltman and Representative of the Secretary-General for West Africa, Mr Mohamed Ibn Chambas.
In his remarks at the press conference, the Nations Peacebuilding Commission chair, Ambassador Cho Tae-yul, said the UN Peacebuilding Commission can contribute to efforts aimed at sustaining international engagement to supporting The Gambia's peace-building priorities.
He stressed the importance of the peace-building commission's convening role, saying it is a platform that can mobilize deeper commitment and partnership between the national stakeholders, the United Nations System and other regional and international partners in support of The Gambia's peace-building priorities.
"We agreed that the political, security, development and human rights priorities, particularly in the new democratic Gambia, would benefit from continued attention and support from the International Community."
Read Other Articles In Article (Archive)