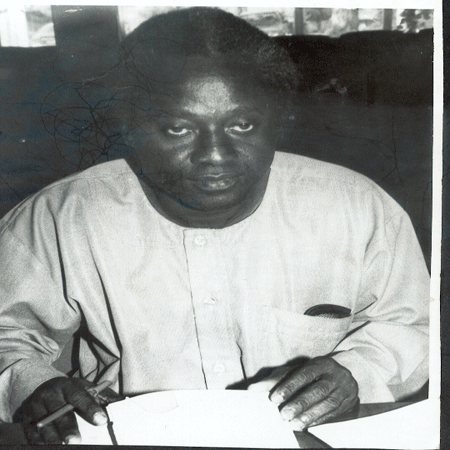 Mr. Halifa  Sallah, Spokesperson of the opposition National Alliance for Democracy and Development (NADD) has said that the just concluded meeting of leaders of Guinea Bissau political party leaders held in the Gambia is below his expectation and that his presence in light of some of the circumstances on the occasion could not earn him any respect, integrity or dignity.
Mr. Sallah told Foroyaa newspaper that he found the ceremony dominated by APRC party activists from the street to the hall at Kairaba Hotel and decided to leave since he was not interested in ceremonies on such an important occasion when the very future of a nation he hold in high esteem was to be discussed.
"Hence when I sat down close to my colleagues and surveyed the hall it became clear that we would just sit there and listen to a speech from the high table without having any right to make a contribution.
"I told my colleagues that the gathering was below expectation and that our presence in light of the circumstances could not earn us any respect, dignity or integrity. I therefore sought the assistance of the security personnel to be escorted out of the hall," Halifa said.
As to whether he walked out of the hall unilaterally or he consulted his colleagues, Halifa expressed disappointment for founding what he described as a hall full to capacity with people who are usually present during state ceremonies and APRC party enthusiasts.
"Since I expected a round table discussion between the parties of both countries with technical back up from their foreign affairs ministries and the ECOWAS secretariat; moral backing from the respectable religious leaders and civil leaders and full support of civil society segments and the press, I was very disappointing when I arrived and found a hall full to capacity with people who are usually present during state ceremonies and APRC party enthusiasts.
According to Mr. Sallah, his worries grew when he saw where members of the opposition leaders were placed. "They were not any close to the leaders of the parties from Guinea Bissau. Instead the opposition leaders were put in the same row with the security chiefs. The chairs were not even enough to accommodate the opposition and contingency measures had to be taken to make the necessary seats available after some protest", he lamented.
For Mr. Sallah, the marriage between state and party is so strong in the Gambia that a non- partisan fora to promote the National, Regional or Global interest is becoming increasingly difficult to convene. "A round table conference would have earned the country integrity and respect. All parties would have learned something from each other so that pluralist party politics could be conducted in line with the standards of best practice", he stated.
Read Other Articles In Article (Archive)