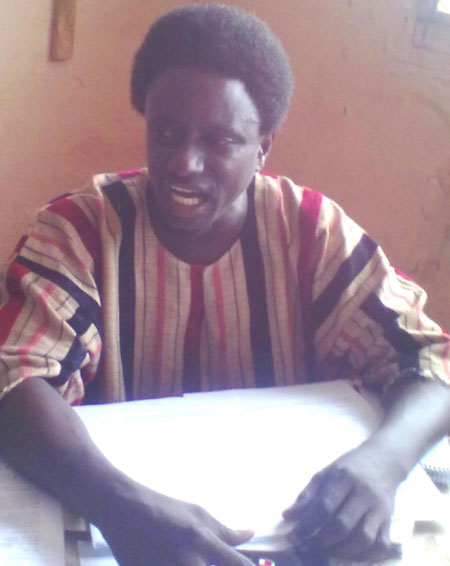 Global Youth Innovation Network (GYIN)-Gambia yesterday observed the International Youth Day and launches a campaign called "I am GYINer national Campaign".
The theme for this International Youth Day is "Building a better world: partnering with youths.
Speaking at a press conference at the Voice Newspaper in Serrekunda, to mark the day, Mr Nfamara Jawneh, coach to GYIN-Gambia and a youth activist, who served as the guest speaker, said it is a day that provides an opportunity to draw attention to the plight of young people and issues of youth worldwide.
The day, he said, was set up in December1999, by the UN General Assembly and is a global call to action to develop and engage in partnerships for and with youth.
"Young people today faced pressing global challenges such as high level of unemployment, poverty, vulnerable working conditions, violation of their human rights and marginalization from decision-making process," he said.
Mr Jawneh indicated that partnerships with the UN agencies, governments, the private sectors and the civil societies can help to increase opportunities for youth successes.
He called for for a collective and concerted effort on the part of all stakeholders to respond to the pressing global challenges faced by youth, saying partnering is a key to harnessing such efforts.
He adduced that launching the GYINer Campaign to coincide with the International Youth Day was timely and a step in the right direction.
Momodou Edrisa Njie, national coordinator of GYIN - Gambia, said GYIN aims to contribute to the reduction of poverty among poor rural youth in the country through the exposure to opportunities and business prospects among others to enable the youth to create and engage in sustainable small agric-business entrepreneurship.
According to him, the event of a GYINer national campaign is a business-oriented competition. "The goal of the campaign is to recruit youth entrepreneurs to join GYIN, showcase successful youth entrepreneurs, record best practice, and increase the visibility of young people entrepreneurs' business products and services," he revealed.
Mr Njie revealed to journalists that the target applicants for the competition are youth between the ages of 18 and 30 and the country residents who are the founders, owners, or executive members of their businesses.
He said the competition is in two categories: best cultural product seeks a service or product that exemplifies the country's culture, or locally available resources member of a business while the best socially conscious business seeks an existing business that exemplifies the belief that business should respect and enrich their communities and environments.
He said among others that prizes will be awarded to the winners of each category with a trip abroad.
Assan Sallah, a board member of GYIN - Gambia, commended the organisation for the success registered within this short period since its inception.
Sallah called for capacity building to address pressing issues effecting young people.
Other speakers on the occasion were Meita Touray, secretary of GYIN-Gambia; Abdou Rahman Sallah, project manager of GYIN-Gambia; Modou S. Joof, advocacy and communications officer of GYIN-Gambia; Fatou Drammeh, board chair of GYIN-Gambia.
The objective of GYIN-Gambia is to create and support an enabling environment under which young people in the country can act on their own behalf, among others, to facilitate exchange of experiences, learning and networking for young entrepreneurs.
Meanwhile, the event which began with a minute silence in honor of all those young people who  have lost their lives in the struggle for their freedom and liberty, ended with a question and answer session.
Read Other Articles In Article (Archive)