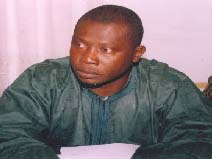 Threatens To Forfeit Business License Of Defaulters
The Chairman of the Brikama Area Council, Mr. Sunkary Badjie, has buttressed on the significance of the national clean-up exercise (Set-setal), outlining his council's resolve in forfeiting trade licence of those vendors who do not participate in the exercise.
The BAC boss issued this stern warning to Brikama main vendors during a day's consultation meeting with 37 vendors, at the council's ground on Monday 28th September, 2009.
Elaborating on the importance of health, Badjie said, it is incumbent upon vendors to clean their place of business during every national Set-setal, and then reminded them of the existence of anti-littering laws.
According to him, the council would issue trade licence to vendors who comply with the monthly national clean-up exercise, and committed to implementing the anti-littering laws. He urged vendors to collaborate with his council in waste management and collection, adding that the council annually spends about 4.5m on waste collection and disposal.
Mr. Badjie further told the vendors that "it is our collective responsibility to ensure that the environment is always kept clean".
On his part, Mr. Dembo Jassey, BAC's Police Commander noted that vendors who do not take part in the forthcoming national clean-up exercise will be deprived of their trade licence.
Mr. Lamin Luwa Conteh, Senior Supervisor of BAC Cleansing Service Unit, spoke at length, about the need for vendors to observe anti-fire measure and to create and sustain access to roads in the market.
The consultative meeting ended with questions and answer sessions. 
Read Other Articles In Article (Archive)