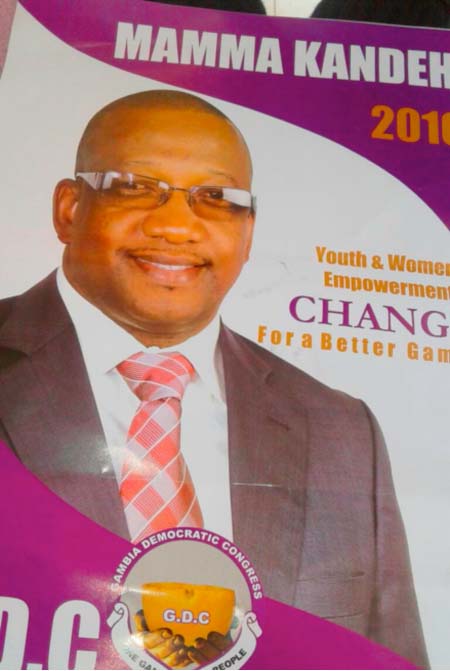 Mamma Kandeh, leader of the Gambia Democratic Congress (GDC), has urged the coalition government to stick to the constitution.

He argued that the appointment of some of the cabinet ministers and the vice president contradicted the constitution of The Gambia.
"The vice president was not eligible at the time of her appointment, and some ministers were convicts," Mr Kandeh said while addressing his party supporters at a rally recently held at Tallinding Buffer Zone.
He stressed that Fatoumatta Jallow-Tambajang should not have been allowed to represent The Gambia at the African Union summit in Ethiopia, without being sworn in as vice president.
"This was unconstitutional as it is contrary to Section 62 of the Constitution," he said.
The GDC leader further blamed the government for amending Section 63 of the Constitution, saying it was amended to suit one person, the vice president, Fatoumatta Jallow-Tambajang.
Also, Mr Kandeh called on the government to explain how the bridge that is being built in Farafenni is going to be built.
"The bridge should not be built in a way that would discourage river transportation," he said. "We also demand explanation in terms of who is going to fund the bridge and what are the terms and conditions of the project."
Meanwhile, Kandeh commended the Ecowas security force in the country for maintaining peace and stability during the political impasse.
However, he warned them not to arrest timber dealers in the country, saying the timber business is a source of income for many Gambians.
Yusupha Jaiteh, GDC deputy party leader, said GDC would launch water projects to build boreholes at Kerr Pateh and Kerr Malick to help the communities to have access to clean drinking water.
"The water project will be extended to West Coast Region very soon," he said as he called on the people to put aside political differences and work together for the development of the nation.
Read Other Articles In Article (Archive)