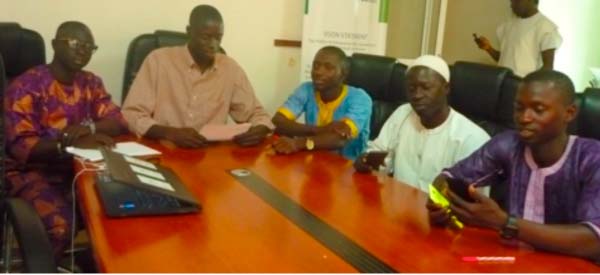 The Gambia Youth Chamber of Commerce (GYCC), the umbrella body and voice of Youth Entrepreneurs in The Gambia, is staging a youth exhibition.

The association is committed to advocating for the creation of the enabling environment that facilitates an organized, vibrant, robust, functional, sustainable and competitive private sector youth-led micro enterprise sub-sector, that is positioned to actually create jobs, generate wealth and contribute to the GDP through innovative intervention mechanisms and constructive engagement.
The youth synergy in partnership with strategic stakeholders will from March 24 to April 1st 2017 stage a youth exhibition at the Westfield Youth Monument.
The exhibition funded by SSHFC, FASDEP and YEP project targets 100 youth entrepreneurs across the country.
Ismaila Sambou, GYCC president, speaking at a press briefing held last Friday at the NEDI office, said the commitment of GYCC is to prepare, develop, nurture and support the establishment of functional youth-led micro enterprises, and generate employment opportunities across the country through the implementation of the micro enterprise activities.
Mr Sambou stated that as the first-ever youth exhibition to be held in The Gambia, every effort shall be made to allocate to the exhibitors the stand space which has been ordered.
However, he went on, to facilitate an effective layout of the exhibition and if the organizers being the Gambia Youth Chamber of Commerce (GYCC) members believes it to be in the best interest of the exhibition.
The organizers have the right to make a stand reallocation at any time, provided that the reallocated stand space shall not be more than 10% greater or less than the space which has been booked.
According to him, if the space is reduced, the price for the stand shall be reduced proportionate to the amount of the space reduction.
"The development of our beloved country depends not on the movement of the clock, but on the movement of the minds of the youth of the country, moments of striving as we work for the development of The Gambia," he remarked.
Baboucarr Kebbeh, CEO GYCC, said a registration fee of D500 is set aside for each participant interested in taking part in the exhibition.
He added that the weeklong youth entrepreneurship exhibition is meant to avail participants the opportunity to network, as well as showcase their products.
Mustapha Badjie, NEDI programme manager expressed his office's readiness to continue supporting the chamber.
Read Other Articles In Article (Archive)