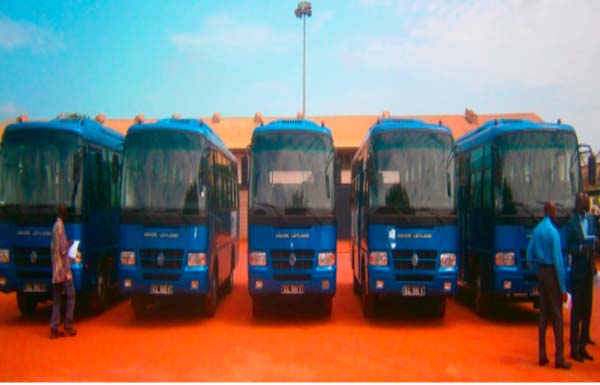 The Gambia Transport Service Company (GTSC) on Monday received a fleet of five new Ashok Leyland buses at its deport in Kanifing.
The company continues to live up to its promises and expectations, by providing affordable and more reliable transport for people traveling across the length and breadth of the country- from Banjul to Basse - a GTSC a press release stated.
"The company continues to play instrumental roles in making transportation more affordable for Gambians, especially at a time when private transporters continue to raise fares to a level that many travelers deem unreasonable," the release added.
The arrival of these new buses, the release indicated, "is therefore timely and well anticipated" given the fact that the Koriteh is fast approaching.
"This serves as an opportunity to provide more services to Gambians travelling to visit families and friends across the country," the release said.
"Furthermore, the new buses will provide a great boost for the Private Hire service operated by the company.
"The vehicles are all fitted with modern facilities like air conditioners, fans, seat belts, curtain rails, fire extinguishers, speakers, etc. to ensure a comfortable and safe environment for customers."
Another important policy, the release further stated, is how the company is dedicated to handling lost or forgotten baggage on its buses.
"Prior to boarding the buses, all luggage are tagged with the customers' name, destination and contact details," it stated.
"In case a baggage is forgotten on the vehicle, customers are immediately contacted to collect their belonging at anytime."
The release stated further: "The company remains patient to safely keep some belongings for over a year."
The GTSC release added that officers "are always on the ground at the bus depots to ensure timely departure of services", and to also chat and interact with customers.
Mr Sowe, Head of Traffic Operations manager, indicated that the main objective of GTSC is to ensure that the travel needs of its customers are met in "the most affordable and convenient" way. He also said the company "will continue to expand its services" to meet the needs and requirements of its "prestige" customers.
"The movement of the buses can be observed plying our roads seven days a week as people from all walks of life continue to utilize the service," he added.
"The thousands of Gambians who traveled using our service have been thankful and appreciative."
Read Other Articles In Article (Archive)