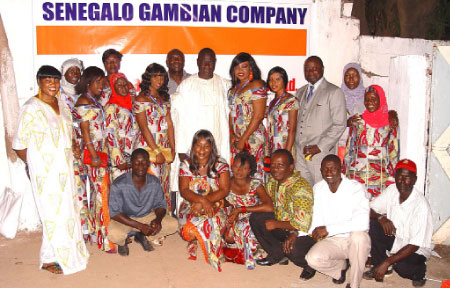 A giant Senegalo-Gambian joint business was Saturday unveiled at Manjai Kunda, and hailed as a strong demonstration of the commitment towards integration among African economies and people.
The Gambia Senegal Builders Enterprise, GS Builders is the brain-child of four seasoned professionals with different backgrounds, from The Gambia and Senegal.
The Gambians in the partnership are Charles Mbye, head of General Engineering, a reputable engineering outfit in The Gambia, and Pa Omar Njie, a Gambian based in Los Angeles, who is a seasoned business consultant and manager.
From Senegal come Alhagie Thioune, an already established civil engineer and head of the well-known SENCOM company in Dakar, and Malick Gaye, a retired Unesco economist with thirty years experience.
At the launching Saturday, master of ceremonies Malick Jones, a deputy permanent secretary at the Ministry of Communications, described the partnership as a good example of the drive towards regional integration, and reminded the audience of a recent interview he had with Ambassador Doudou Salla Diop of the Senegalo-Gambian permanent secretariat, who he said had spoken of the need for initiatives such as the GS builders partnership.
Speaking on the occasion, Malick Gaye said the initiative was conceived and inspired by the fact that the two countries are peopled by the same kind of human beings sharing one culture, who realized that with their knowledge they can help the people in the two countries through initiatives like GS Builders.
"This is what we think Africa can move forward, in this modern era. We have people with the knowledge and time has come for us to take Africa in our arms to achieve real success,'' Mr Gaye said.
Charles Mbye said GS Builders is not just a company for building or selling houses or supplying materials, but it is aimed at shaking off this syndrome of importing expatriates to do jobs that can be perfectly done by indigenes in our regions. 
"Often what happens is when you have a big project these so-called expatriates come in and suck out all the resources, and leave us with meager amounts. This is what we want to stop. We hope to create a pool of experts in key areas - plumbers, electricians and engineers - trained with high caliber skills around the region so that we can alwayshave a large base to draw experts from, for any given job in any country in the region,' Mr Mbye said.
Alagie Thioune of Sencom expressed similar sentiments, while Bekaye Cham, the man credited for initiating the talks leading to this grand partnership, urged all to focus on the project for the benefit of the people of the two countries.
The ceremony was attended by officials from the Senegalese embassy, Senegalo- Gambian permanent secretariat, diplomats, and senior government and private sector officials.
GS builders is based in Manjai on the ground floor of the office housing General Engineering.
Read Other Articles In Article (Archive)