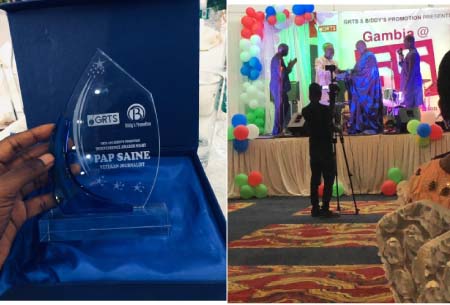 The Gambia Radio and Television Services (GRTS) in collaboration with Biddy's Promotion on Saturday honoured The Point Newspaper's Co-publisher Pap Saine and 20 others, majority of whom are late GRTS staff with "Award of Excellence" at a Gala dinner and award night held at Paradise Suites Hotel.

The awards were meant for the great sons and daughters of the country who served the nation with due diligence in various fields and capacities. It was designed to recognise their outstanding contribution to our great land.
Director general of GRTS Abdou Touray described their service to the nation as phenomenal and an inspiration to many.
Pap Saine in reacting to the award began by thanking GRTS Director General Abdou Touray and his staff for honouring him.
"I am overwhelmed by my relations with GRTS which dates back fifty years ago," he said.
He pointed out that GRTS always opens its doors for him which is why he is always at their service whenever they need him especially in sports because it is a national duty.
He described the award as a plus to his career, saying such prestigious award will continue to motivate him in his job.
He assured that he would share his fifty years journalism experience with them.
Meanwhile, the first recipient was former president late Sir Dawda Kairaba Jawara who was honoured posthumously.
Other recipients of the posthumous award included late Momodou Sanyang former director general of GRTS, late Kebba Dibba also a former GRTS DG, Mansour Njie a wollof announcer, Lalo Samateh Mandinka announcer, Mousa Camara a fullah announcer, Ajaratou Maimouna Bah a woloff and fullah announcer, Ismaila Manneh a Mandika announcer, late Sarjo Barrow a Mandika announcer, Momodou Jagne an administrator at GRTS, Jali Alajie Mbye an artist and historian, and late Sise Sawaneh a former GRTS staff.
Alh. Serign Faye former director of Radio programmes at GRTS, Bakary Njie former director of Gamtel, Sabel Bajan former senior programme manager at GRTS, Pap Saine co-publisher The Point Newspaper, Saly Savage a retired nurse, Chief Momodou Bojang of Kombo North, Alh. Buwa Kinteh a retired chief of Jarra Pakalinding, Michel Hochiemy a businessman and Ajie Coumba Sosseh a retired teacher were also honoured. The occasion was graced by Ebrima Sillah, the minister of Information, Communication Infrastructure.
Pap Saine's 50 years collaboration with Radio Gambia (now GRTS)
"Saturday club, with Sidi Jammeh 1970 to 1975 a musical programme which promoted Cuban and African music.
I also joined the sports desk of Radio Gambia working with Sidi Jammeh, Saul Njie, Bora Mboge, late Dupeh Joiner and his brother Remi Joiner, former deputy manager of Trust Bank, Nana Grey Johnson, Silass Jones, Sandigui Njie, Peter Gomez, Malick Jones, Tijan Masanneh Ceesay, Dodou Bojang, Tijan Janneh, Essa Sowe, Babou Cham and Falilou Njanko.
From 1974 to 1994 when I was media officer of The Gambia Football Federation, I accompanied the national football team in their overseas matches and sent reports by Telex to Radio Gambia.
The first overseas football commentary I did with Saul Njie was 4th February 1979 in Monrovia, when Gambia lost 1-0 in the final of Tolbert Trophy against Liberia.
I thanked Serah Goddad Johnson, director of Radio Gambia who always encouraged me to participate in the football commentary which I did in English and Wollof.
I joined Alh. Serign Fye's programme called Penchum Sengambia with Radio Gambia and Radio Senegal aired every month.
When I was president of the Gambia Sports Journalist Association and accredited Chairman to Zone II tournaments, me and Lamin Cham, the now editor of Standard Newspaper initiated sports programme with the state TV when Gambia hosted Zone II football tournament in 1977. The programme was anchored by Remi Joiner.
In 2013 I initiated the revival of the French news with the state TV which then DG Lamin Manga and Fatou Sanneh-Ceesay director of Programmes approved without delay.
I trained those who were reading the French news in short period.
I also served as media officer of Confederation of African Football from 1998 to 2004. In 2000, I was appointed press officer of African Cup of Nations tournament jointly hosted by Ghana and Nigeria.
I covered World Cup three times and African Cup of Nations 16 times."
Pap Saine: Co-publisher of The Point Newspaper, Reuters and RSF Correspondent awards
"The 1988 award from Morocco Football Federation during the hosting of African Cup of Nations: quiz competition in African football I received gold medal.
In 1999, I received an award from Gambia National Olympic Committee.
In 2006, I received an award from Johann Philip Preis Foundation in Germany.
In 2010, I was named World Press Freedom Hero by International Press Institute based in Vienna, Austria.
In 2012, I received an award from Gambia Press Union.
In 2014, I received another award from International Press Institute in South Africa.
In 2014, I received an award from the Post, the largest newspaper in Zambia.
In 2015, I received an award from Gambia Sports Journalist Association.
In 2015, I received another award from Banjul Muslim Elders.
In 2018, I received an award for the second time with Gambia Press Union.
In 2019, I was named man of the year by the Black America Journalists Association which regroups 50 states of America."
Read Other Articles In Article (Archive)