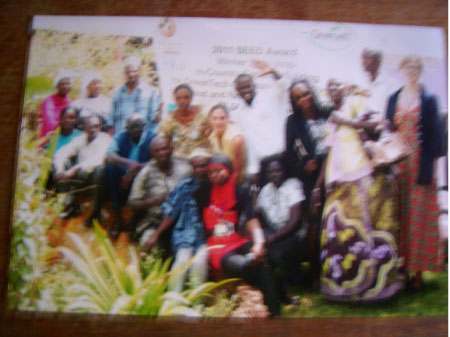 GreenTech Environment Solution recently wrapped up a two-day workshop on SEED in-country for GreenTech and its partners.
The forum, which brought together various participants and stakeholders, was part of a support package, following the winning of the 2011 seed award for GreenTech as an outstanding social and environmental start-up enterprise, working in close collaboration with diverse NGOs, women groups, and environmental institutions.
The international seed award by UNDP/UNEP and IUCN was given to 35 initiatives worldwide and for the first time also to a Gambian enterprise.
Speaking on the occasion, Ebrima Darboe, principal assistant secretary at the Ministry of Forestry and the Environment, commended the participants for their high sense of commitment and participation to this very important capacity building workshop.
He said their participation will greatly help them in the creation of awareness on environmental issue.
Mr. Darboe also applauded GreenTech for its determination and success and its partners, working towards sustainable environmental solution.
For his part, Peter Mendy, energy officer of the Ministry of Energy, commended GreenTech for its effort to contribute to sustainable development and achieving better livelihood for the poor, especially the women.
Since July 2011 GreenTech Company, LMT, has been producing fuel briquettes from groundnut shell and promoting  highly compatible fuel efficient stoves, which can be used for cooking and  heating purposes for households and industries.
GreeTech is fast becoming known to be providing a true alternative to firewood and charcoal. 'GreenTech provides all the opportunity to protect the remaining forest cover and to mitigate climate," Mr Mendy said.
Also speaking at the occasion, Cosima Strasser, SEED adversor who facilitated the programme, guided the participants through an enriching agenda of lectures and exercises for sustainable business development and partnership management.
The participants expressed their appreciation for the enhancement and elaborated plans to continue the networking initiative.
The SEED initiative will further provide remote consultative support through the advisor, who monitors the progress of the endeavour.
The work was attended by representatives of the initial initiative partners, namely Global Unification, MoBSE, SAFMU, Hands on Care/Ngyania Killing Support Society and other development partners.
Read Other Articles In Article (Archive)