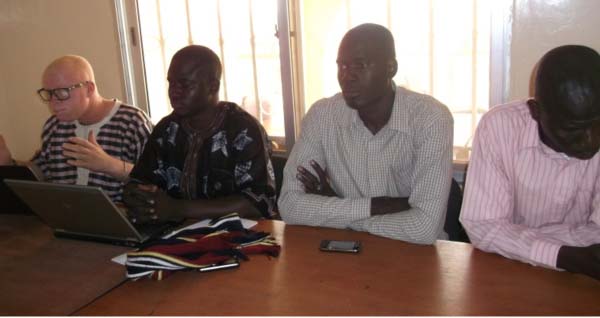 The Gambia Press Union (GPU) is to commemorate World Press Freedom Day on Sunday, 3 May 2015 at the Kairaba Beach Hotel in Kololi.
The union will collaborate with the National Commission for UNESCO, and the office of United Nations High Commissioner for Human Rights to stage the commemoration on the theme: 'Let journalism thrive! Towards better reporting, gender equality, and media safety in the digital age'.
Speaking to journalists on the occasion, Gibairu Janneh, GPU executive secretary, said the day would be commemorated in the form of a symposium commencing at 16:00.
There will be a panel discussion on various topics such as: mainstreaming women and girls in the news – towards gender equality in national news reporting by Amie Sillah; freedom of expression matter – a critical evaluation of the legal and policy environment in The Gambia by Madi Jobarteh; and safety and security of journalists in the digital age by George Christenson.
Mr Janneh said the day will also serve as a platform for remembering journalists who were either killed or jailed for doing their doing their journalism work.
The GPU will also use the occasion to enlighten people on the significance of journalism in society.
The newly-elected GPU secretary general, Saiku Jammeh, said representatives of all the political parties, diplomatic missions and the government are expected to attend the commemoration.
Mr Jammeh said they have got confirmation from the UN Special Rapporteur on Freedom of Expression, and Commissioner Pansy Tlakula of the African Commission on Human and People's Rights that they will attend the commemoration on Sunday.
"The regional director for the office of the UN High Commissioner for Human Rights [in Dakar, Senegal] will also fly in to join us," he said.
The day is expected to serve as an avenue for a positive dialogue between the media, the government and other relevant stakeholders.
Every year, 3 May is a global day to celebrate the fundamental principles of press freedom; evaluate press freedom around the world; defend the media from attacks on their independence, and pay tribute to journalists who have lost their lives in the exercise of their profession.
Over 100 national celebrations take place each year to commemorate the day. UNESCO leads the worldwide celebration by identifying the global thematic and organising the main event in different parts of the world every year.
The international day was proclaimed by the UN General Assembly in 1993 following a Recommendation adopted at the 26th Session of UNESCO's General Conference in 1991.
This in turn was a response to a call by African journalists who in 1991 produced the landmark Windhoek Declaration on media pluralism and independence.
Read Other Articles In Article (Archive)