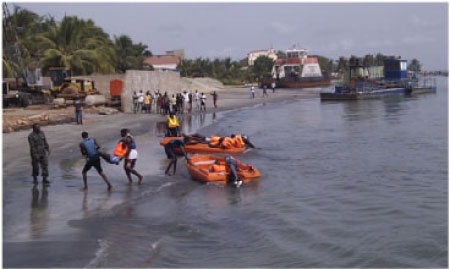 The Gambia Ports Authority, GPA, in collaboration with ferries and the Joint Operations Committee (JOC) on Monday 5th  November, 2012 organized a simulation exercise on ferry disasters at the Banjul terminal.
The exercise involved all the security departments such as the army, navy, Gambia Immigration Department, National Disaster Management Agency (NDMA) as well as the Fire service, the RVTH, Red Cross, and Barra-Banjul Canoe Association, among others.
The main motive behind the exercise was to ensure the safety and security of lives and goods on board the ferries and canoes crossing the Barra-Banjul crossing point.
Speaking to reporters shortly at the end of the exercise at the RVTH, Dr. Ramos, head of Department of Medicine, congratulated all those that took part in the exercise.
"We are improving, and we are working together," he assured.
He noted that an exercise of such nature is vital, as sometimes a real disaster occurs.
Dr. Beatrice Dyer, a VSO volunteer and A&E consultant (Gambia) also expressed similar sentiments, noting that the exercise was good as emergencies can occur in the middle of the night. He noted that as doctors, they have to be ready at any time.
"What we need to focus on is to be working as a team" she asserted.
Binta Sey Jadama, speaking to reporters on behalf of the Executive Director National Disaster Managemnet Agency, revealed that this was the first such simulation exercise, adding that was meant to learn from the response of partners.
"It was also to test the capacity and strength in case of emergency." Jadama added. According to her, after this exercise, they would know their weaknesses, and be ready to respond to accidents at any time.
Lamin Sanyang, representative of the Fire service and JOC, also described the exercise as very good. He reiterated that it is to test theie strengths and weaknesses.
"From the exercise, we going to look at areas to adjust and areas to improved on.
The JOC is a new branch that was created last year, and supervises the joint operations involving those in the security sector.
He described the exercise as successful, but noted that they witnessed some weaknesses, and will work on them, in case of emergencies.
Amie Secka Njie, assistant safety manager GPA who was the acting chairperson of the organizing committee, said all what they expected had been done.
She thanked the president and the GPA management for approving what she described as a worthy cause.
Sulayman Jones, the secretary technical committee, echoed similar sentiments.
Read Other Articles In Article (Archive)