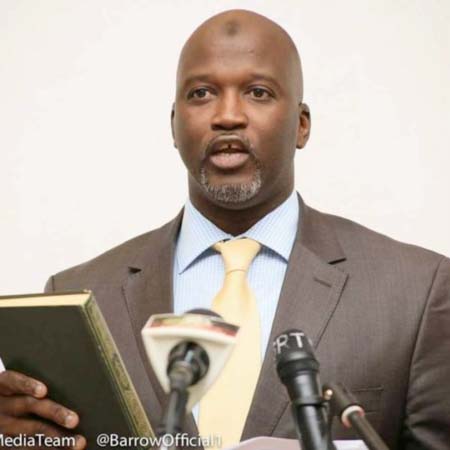 The Gambia government is not reaching out to the Swiss authorities to extradite Ousman Sonko, the Minister of Justice has said over the weekend.
Swiss papers on Thursday reported a possible extradition of former Interior minister Ousman Sonko, based on talks that the Gambia and Swiss authorities are engaged in.
However, Justice Minister Baboucarr Tambadou said their cooperation with the Swiss authorities is not for the extradition of Sonko.
"We are cooperating in their investigations and prosecution of Ousman Sonko [in Switzerland]," he told The Point on the sidelines of the launch of the consultations on the Truth and Reconciliation Commission (TRRC) over the weekend.
Sonko was arrested in Lyss, Switzerland, after a Geneva-based NGO, Trial International filed complaints of alleged crimes against humanity at the prosecutor's office in January.
In May, his detention was extended as the authorities intensify probe into allegations of crimes of torture reported to have been committed under Sonko when he served as Minister of Interior under Jammeh.
The prosecutor's office on Thursday again announced that it has extended criminal investigations to other offenses after hearing testimonies and complaints of more witnesses.
That is why it requested for an extension of the detention of the ex-Interior Minister.
Seven witnesses have so far been secured by the authorities from The Gambia. They flew to Switzerland to give testimonies in a pre-trial investigation which under Swiss laws empowers the courts to detain suspects for up to a year.
Asked if the government prefers Sonko to be tried in Switzerland instead of The Gambia, Minister Tambadou said: "Whatever the government prefers does not make any difference. He is being prosecuted before the courts and we are cooperating with the Swiss authorities in that."
He explained that the Swiss authorities are requesting for information and material that will assist them in prosecuting Ousman Sonko, and that The Gambia is providing those it has.
Read Other Articles In Article (Archive)