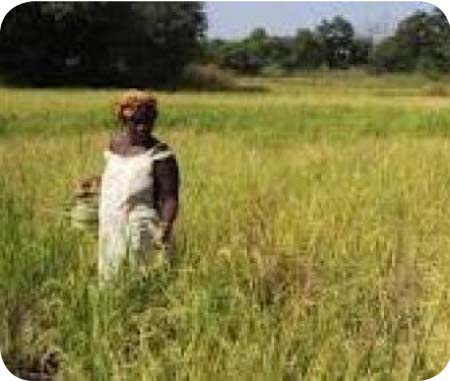 President Yahya Jammeh has announced plans to set up a National Food Security Corporation to spearhead the country's drive for national food security, according to news monitored on GRTS radio and tv.
The corporation will manage rice production in The Gambia in partnership with local communities, particularly the women farmers, who are the main rice producers.
There will be a comprehensive review of the land tenure system, which has left vast tracts of unused land in the hands of a few families; which will be undertaken to free up surplus land for agricultural production.
The integrated approach being adopted will enable the corporation to work closely with the farming community to achieve the objective of rice self-sufficiency by 2016.
Visiting rice-fields in the Central River Region, CRD, President Jammeh observed that this region alone, said to be the largest administrative region in the country, with tens of thousands of hectares, has enough farmland to feed not only the nation, but to produce surplus for export to the rest of Africa.
The arable land in the Central River Region if fully utilized will free The Gambia from importing rice, which is the staple food, according to reports received.
It has been reported that the annual food import bill for rice alone is D800 million.
CRD has been home to many rice projects in the past, which did not have the desired impact, such as the Jahally Pacharr rice project, and Jammeh during the tour warned of a complete break with the past, and that it would no longer be business as usual.
Henceforth, rice production would be geared towards meeting domestic needs and producing a surplus for export, he said.
President Jammeh was speaking during his ongoing tour of rice-fields, as part of the dialogue-with-the-people tour, which this year focuses on the declared policy goal of attainment of national food self-sufficiency by 2016.
The President announced the government's commitment to mobilize resources towards that end. 
Read Other Articles In Article (Archive)