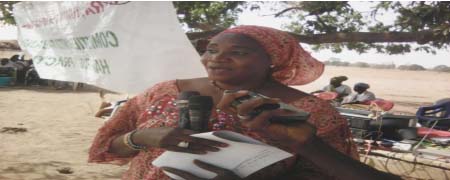 Bintou Gassama, deputy permanent secretary at the Office of Vice President, said The Gambia government is committed to the protection of women and girls in the country.
She made this remark while presiding over a public declaration of 62 Fula communities in Tumana, Kantora and Basse Jimara, who openly, voluntarily, pledged to abandon the practices of FGC – female genital cutting – as well as early and forced marriage, at a ceremony held in Sareh Talata village in Jimara district of the Upper River Region.
According to beneficiaries, the landmark event came as a result of a three-year intensive training exercise under the community empowerment programme funded by UNICEF and implemented by Tostan The Gambia.
"Today is an important day in the history of The Gambia and URR in particular as you solemnly and voluntarily declare your intention to abandon the practices of Female Genital Cutting (FGC), early and forced marriages within the region," she said.
According to her, the mandate of their office is to provide legal and policy frameworks as well as an enabling environment for the advancement and protection of women and girls.  Women contribute significantly to national development but harmful cultural practices such as FGC and child marriage have negative health effects on their wellbeing.
She commended UNICEF for supporting Women's Bureau and providing funds for Tostan to empower communities on the health implications of FGC and child marriage in Upper River Region.  She also hailed The Gambia government for criminalising the practice of FGC.
Mariama Janneh, a representative from UNICEF, expressed appreciation and honour to be part of the history-making ceremony as it was the first public declaration of voluntary abandonment of the practice of FGC since the creation of a legislation banning the practice.
To her, the existence of legislation against FGM/C presents a new opportunity in the work being done to end the practice throughout the entire country.
She described the celebration as worthy, saying we all take one more step to protect the lives and welfares of many girls who remain at risk of FGC and child marriage.
She noted that it is important to continue sensitising the communities to ensure a wider understanding of harmful effects of FGC, early and forced marriages, possibly leading to voluntary abandonment by individual and communities, an approach that promises bigger and more concrete impact.
Madam Janneh underscored that since 2006, through a joint collaboration with Women's Bureau, UNICEF has been supporting the Community Empowerment Programme (CEP) championed by Tostan, which is strategic because it does not only address FGM/C, but also addresses other child rights issues such as child protection, girls education, gender empowerment and child health which are crucial to the holistic development of children.
She said: "With the mandate to protect and fulfill the rights of children, UNICEF has a responsibility to contribute to efforts being made to end the practice in the country by continuous support to the government and its partners to ensure that no child is left behind in the strive to attain a sustainable development goals which have clear targets on the elimination of harmful traditional practices.
Mariam M Kandeh, chairperson of the steering committee, said the day is a historic day for UNICEF and The Gambia government as the participating communities registered another important milestone in adopting new social norms.
She noted that the decision does not just occur but happened after intensive three years of sustainable community empowerment programme led by facilitators.
She said this should be with regular and effective social mobilisation and sensitisation activities by the CMCs and social mobilisation agents on issues affecting the health and mental wellbeing of women and girls and which are violations of their fundamental human rights as enshrined in the Universal Declaration of Human Rights, Convention on the Rights of the Child, Convention on the Elimination of all forms of Discriminations against Women, and the African Charter on Human and People's Rights to which The Gambia is a signatory.
Madam Kandeh said Tostan programme does not only focus on FGC but a holistic community development programme that contributes to the overall process of community empowerment covering themes on democracy and good governance, human rights and responsibilities, problems solving process, hygiene and health, literacy and management skills, SMS texting, microfinance, child protection, and peace and security initiatives.
She thanked The Gambia government through Women's Bureau and the URR governor's office for providing an enabling environment.
She also commended UNICEF Gambia office for providing the funding over the years making it possible to witness this very important and historic event.
Read Other Articles In Article (Archive)