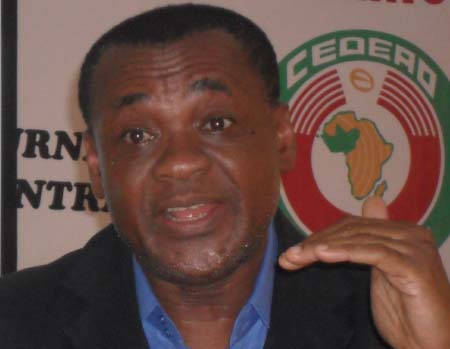 Karim Okanla, Communication Specialist and Lecturer at the University of Benin, has said that media reports on Money Laundering and Financing of Terrorism (ML/FT) galvanise public interest and awareness on financial malpractices.
He said members of the public provide an invaluable channel for receiving civil society's views, adding that media professionals can also use social media such as Face Book and YouTube, to keep the debate on Money Laundering and Financing of Terrorism (ML/FT) activities in their individual countries and in the sub-region.
Mr Okanla was speaking last week during a PowerPoint presentation at the just ended two-day sensitization seminar for journalists on Anti-Money Laundering and Combating of Financing Terrorism from the Anglophone ECOWAS speaking countries.
The workshop, held on 19 and 20 May 2011 at the Liberian Chambers of Commerce hall in Monrovia, was organised by the Inter-Governmental Action Group Against Money Laundering in West Africa (GIABA).
"Media reports on (ML/FT) often trigger reactions from members of government, the judiciary and lawmakers," Mr Okanla said, adding that many countries in West Africa lack Freedom of Information (FOI) Act; therefore, in a bid to avert libel suits defamation and other legal offences, the media must strive to publish balanced reports.
Most importantly, he continued, the media must be able to substantiate or document its allegations before a court of law, should a liable suit arise. "The media must work closely with pro-transparency and pro-government organisations in a bid to build stronger alliances against ML/FT. Media and members of the civil society can play a synergistic role in exposing and addressing issues regarding financial malpractices and organised crime in the sub-region," he said.
Mr Okanla said that persistent media coverage on ML/FT issues demonstrates that the public needs to be given a reason to believe that ML/FT can endanger the survival of financial systems in the sub-region.
He stressed that media coverage of issues in organised crime and financial malpractices can influence different decision-makers including lawmakers and the judiciary to effect necessary punitive measures to offenders.
According to Mr Okanla, availability and enforcement of constitutional provisions to expose and punish acts of financial malpractices, fraud and organised crimes can go a long way in enhancing public awareness and institutional accountability.
The scrapping of a law that contains loopholes, or fosters opportunities for organised crimes and financial malpractices, can be hailed by members of the public as a great success and also the impeachment or forced resignation of a crooked politician, the firing of an official, the prosecution and incarceration of an influential bank manager, or the freezing/confiscation of his/her assets, will be hailed by members of the public as a major achievement in the fight against ML/FT.
Mr Okanla outlined the roles of media in GIABA Member States, which includes raising awareness on ML/FT issues that may endanger the economic, financial and political systems of member States.
The Media's role, he added, is to act as a watchdog and whistleblower on known or suspected cases of ML/FT.
He urged journalists at the seminar to raise public awareness about the typologies, scope and effects of ML/FT in GIABA member states, asserting that as media practitioners they must also investigate and report cases of ML/FT in member states and in the sub-region.
"The role of media is very crucial in securing a healthy and enabling environment for Financial Institutions (FIs) and designated Non-Financial Professions and Businesses (DNFPBs) in the sub-region," he emphasised.   
He said that since journalists are capable of revealing commercial abuses, the media must keep a close eye on the activities of the Central Bank, commercial banks, merchant banks, investment banks, development banks, and even microcredit institutions particularly in their interactions with government.
"The role of the media is also important in promoting good governance, accountability and transparency at government and institutional level and the media's watchdog roles are critical in monitoring the centres of power," he noted.
He said stories in the media keep the country on its toes, especially the urban middle class tapping into discontent with those in society who benefits from illicit gains or get rich quick with no merit.
Read Other Articles In Article (Archive)