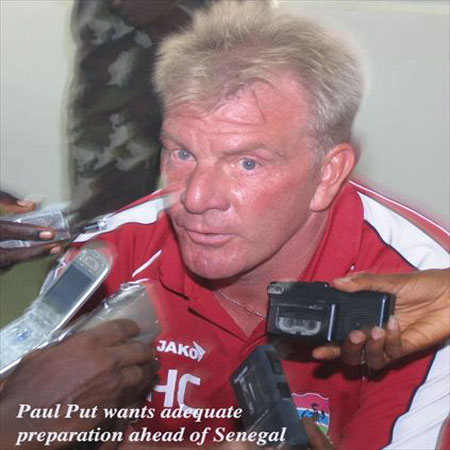 The government of The Gambia yesterday completed the signing of a four-year contract with Belgian Coach Paul Put to lead the senior national team, at the Joint Officers Mess in Kotu.
The signing ceremony was presided over by the Secretary of State for Youths and Sports Sheriff Gomez.
During his statement, Secretary of State Gomez said the government through the leadership of President Jammeh takes sports as fundamental in national development. This is why he had taken the leading step by employing the services of the coach.
The signing of the coach here today is very significant which is part of a promise made by HE President Jammeh.
He said year 2008 has seen numerous achievements in the Gambian football calendar pointing to the need to keep up the momentum.
Secy Gomez highlighted that after the signing of a magnificent coach by government, the GFA should work out a strategy to ensure that football goes to the highest level.
"This is whythe department of state is coming up with a sports conference in the near future to build up a comprehensive plan to ensure success in sports," he added.
He said the Department of State for Youths and Sports is also looking forward to the GFA in ensuring all issues hampering sports development are addressed
"It is the responsibility of players to identify individual roles in the team in order to achieve good results. Government has played its part so it is emboldened on everybody to set back and identify a role to play towards the success of Gambian football," he stated
MambanyickNjie, permanent secretary at the Department of State for Youths and Sports, who spoke earlier, said Africell's intervention in the signing of Coach Put last yearwas not only supportive of the GFAand Department of State for Youths and Sports but to the country at large.
"We hope that the signing of the coach will come with the greatest of luck for Gambia's first qualifications to the 2012 Olympics and next world cup," he said.
He pointed out that in sports we argue and disagree but all is geared towards the development of Gambian sports.
The ceremony was attended by officials of the Department of State for Youths and Sports, GFA and members of the Scorpions Fans Club
Read Other Articles In Article (Archive)