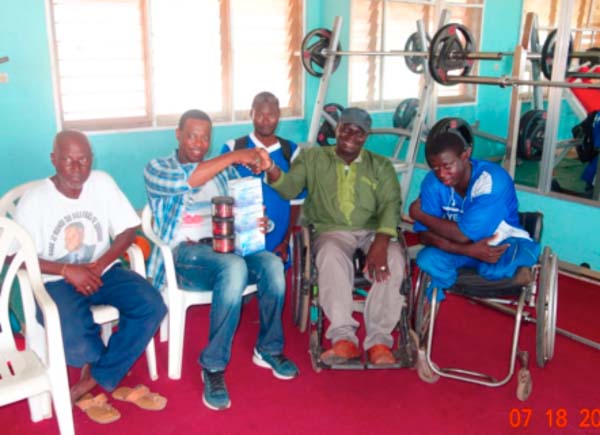 (Wednesday July 20, 2016 Issue)
The Gambia National Paralympic Committee (GNPC) yesterday partnered with Sulayman Sowe, Proprietor of Independence Stadium gym to promote Paralympics in the country as well as to build athletes' level of preparation for the forthcoming Olympic Games in Rio 2016.

The partnership includes offering athletes free training, designing training, designing nutrition plan and supplying them with clean pre- and post-workout nutrition they could use to train better and harder as well as ease their restitution.
Sulayman Sowe, Proprietor of Independence Stadium gym, in his remarks, said he was one day standing at the gym window and saw two Paralympic athletes training.
After looking at the athletes for about 15 minutes he was delighted that they are Gambians and therefore called and discussed with them, and they told him they were preparing for the 2016 Rio Olympic Games.
Mr Sowe said he then assessed the equipment and physical strength of the athletes, and decided to offer them the opportunity to train at the gym for free since Olympians should be physically fit than what he saw in them.
He said the reason he decided to partner with the Paralympics committee is because he felt he could contribute to helping the athletes.
Mr Sowe said he would not make promises but would try his best to look for sponsors for the athletes, adding that his dream is to one day see Gambian athletes standing on the podium receiving gold medals.
He said he had realised that Gambian athletes usually compete with athletes with better equipment and better training, and as such called on all Gambians to work together for "betterment of our athletes and sport".
"I appeal to all Gambian investors to put their names on these people by supporting them," he said, adding: "I hope we will all come out and support them financially and mentally."
Sowe said there is no time limit to the partnership as long as the gym is operating and they need to use it but that the number of athletes should be limited to the most active ones because paralympians need space with their wheelchairs.
He also thanked Allah for giving them the life, opportunity, strength, knowledge and chance to do what they are doing.
Sulayman Colley, president of Gambia National Paralympics Committee, described Mr Sowe as someone with the "zeal and willingness" to be part of the development of the nation.
He added that their partnership began in 2003, hence called on people to emulate Saul because "what he is doing in this country is not only partnering with us but he is key in improving the health of Gambians".
Mr Colley said this will be their second time participating in the Olympic Games but this is the first time they have had somebody apart from President Jammeh and his contacts outside the country to support them.
He therefore thanked the Independence Stadium gym proprietor.
He said many a time people feel that when someone is disabled that is the end of the road for that person, not knowing that the person has a way of contributing to national development.
"Everybody should give his support because today is us but no one knows what the future holds," he added, saying the disabled are part and parcel of society and have a quota towards nation building.
Musa Casa Taal, a veteran sports personality, for his part, said it is vital supporting athletes.
He described Mr Sowe's gesture as remarkable and needs to be emulated by others.
Mr Taal stated that Paralympics need moral support, especially these Gambians that have been able to reach the Olympics, which many other sports players of other national sporting disciplines in the country couldn't.
They should therefore be supported to be able to return home with gold medals and success stories, Mr Taal said.
Malang Tamba, a Paralympic athlete, in his brief remarks, said they were pleased with the initiative meant to improve their health and develop their physical strength and fitness level.
Read Other Articles In Article (Archive)