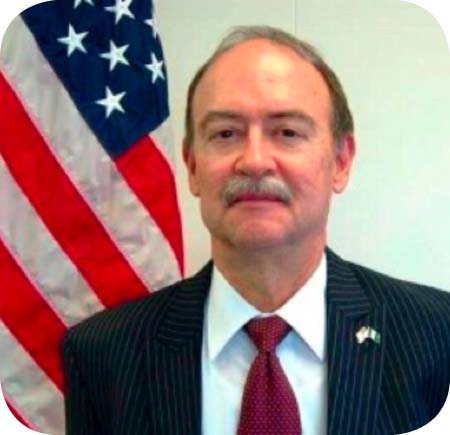 The embassy of the United States of America in Banjul on Thursday celebrated the 239th independence day of America, one month before the due date of 4 July.
"This year… we at the embassy are celebrating America's independence one month early, in respect of the Ramadan (the Muslim holy month of fasting)," said Joseph Stafford, charge d'affaires of the US Embassy in Banjul.
He was speaking at a local hotel in Bijilo where the embassy organised a reception in commemoration of the 239th anniversary.
"Each year, Americans celebrate July 4 as our national independence day because it was on that day in 1776 that the founding fathers of the country – including Thomas Jefferson, Benjamin Franklin, and John Adams signed the Declaration of Independence," Ambassador Stafford said.
"On that day, a small band of patriots declared that we are a people created equal, free to think and worship and live as we please; that our destiny will not be determined for us, it will be determined by us."
The US diplomat said throughout the "short history" of his country, it has been a work in progress.
"Our governance, although imperfect, represents our highest values of freedom and equality for all citizens.Americans would be the first to say that we have a long way to go before achieving some form of democratic utopia," he said.
Notwithstanding, Stafford said Americans can say "with great pride" that they enjoy greater freedoms and privileges since the fight for independence began 239 years ago.
Democracy is more than election
Ambassador Stafford said just as America's democracy is a work in progress, so also is The Gambia's, and the American government wish the Gambia government and people every success as they proceed on the path democracy.
However, he pointed out that democracy means more than elections.
"Democratic governments are accountable to their people, and responsible for protecting them.Ensuring basic human rights is fundamental to progress.Both our governments must work to improve records.Our people demand it, and we must live up to the power that the people bestow on us; through a commitment to freedom and democracy, progress is possible," he said.
Dr Abubacarr Senghore, Gambia's higher education minister, congratulated the government of the United States of America on "this great occasion" on behalf of the president, the government and people of The Gambia.
Deputising for minister of foreign affairs, Dr Senghore said: "We acknowledge the fact that our two countries have been friends for a long time; we enjoyed friendly relations, good cooperation and understanding both at the bilateral level and multilateral level too, and we look forward to continuing such cooperation.
"We congratulate you, and look forward to further cementing our relations, particularly in the field of education and infrastructural development…We have been together for a long time, and will continue to be so."
Read Other Articles In Article (Archive)