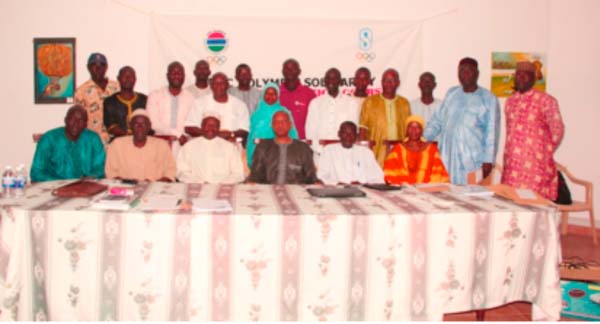 A five-day intensive Olympic Solidarity Sports Administration course for presidents of National Sports Associations organised by the Gambia National Olympic Committee (GNOC) wrapped up on Friday 27 November 2015 at the Gambia Olympic House.
The course aims at helping to enhance and ensure sports administrators strive for effective management and improvement on their administrative approach towards sport and sports development.
The course was directed by Ebou Joof and Lamin Sanneh - Gambian Olympic Solidarity accredited course directors.
The areas covered included fair play, value and ethics of sport, office holders and their functions, challenges faced by sports administrators, women in sport, leadership, sports financing, sports medicine, doping among others.
Speaking at the closing ceremony on Friday, Course Director Lamin Sanneh said that was the first time such a course was organised in The Gambia for associations' presidents.
He acknowledged that it was a give-and-take situation and very participatory, which is a key pillar of the Olympic Movement.
He said the primary objective of any good sports administrator is the development of the athletes, and urged the participants to use and share the knowledge gained from the training.
The administrative officer of GNOC, Muhammed K. Janneh, was upbeat that the training has provided the necessary skills and tools to change the way sport has been managed in the country.
He urged the participants to work together in the interest of sports development.
In his remarks in the closing ceremony, GNOC's Secretary General Peter Prom said he was pleased with the commitment and enthusiasm shown by the participants during the five-day course.
He revealed that Gambian sport has been very fragmented due to lack of knowledge but the course has brought the associations' presidents to thrash out the misunderstanding among them and map out a new era of collaboration.
At the end of the programme, IOC's sanctioned certificates were awarded to reach participant.
The vote of thanks was delivered by Muhammadou Papa Njie, President of Gambia Basketball Association (GBA).
Read Other Articles In Article (Archive)