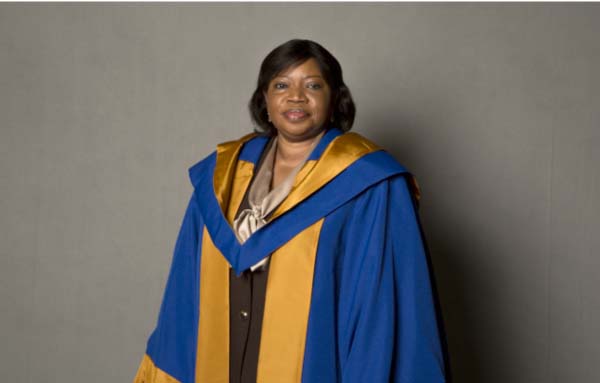 Fatou Bensouda, Chief Prosecutor of the International Criminal Court, has received an honorary Doctor of Laws degree from the University of Dundee.
She received the honorary degree at the first of the Dundee's annual summer graduation ceremonies this week. Ms Bensouda's laureator was Niamh Nic Daeid, professor of forensic science and director of the Leverhulme Research Centre for Forensic Science and Director of Research for the Centre for Anatomy and Human Identification.
Ms Bensouda said: "It is an honour to be recognised by such a prestigious university. since establishing the Scientific Advisor Board, I have been grateful to Professor Nic Daeid for the advice she has provided with regards to the scientific presentation of evidence in the courtroo. I am pleased to accept this honour personally and on behalf of the Office of the Prosecutor at the International Criminal Court and international criminal justice in general."
Prior to her work at the International Criminal Court, Ms Bensouda worked as legal adviser and trial attorney at the International Criminal Tribunal for Rwanda (ICTR) in Arusha, Tanzania, rising to the position of senior legal advisor and head of the Legal Advisory Unit.
Before joining the ICTR, she was general manager of a leading commercial bank in The Gambia, her home country. Between 1987 and 2000, she was successively senior state counsel, principal state counsel, deputy director of public prosecutions, Solicitor General and Legal Secretary of the Republic, and Attorney General and Minister of Justice, in which capacity she served as Chief Legal Advisor to the President and Cabinet of The Republic of The Gambia.
Professor Nic Daeid said: "The work Ms Bensouda has undertaken as Prosecutor of the International Criminal Court in bringing to account the perpetrators of genocide, war crimes and crimes against humanity is world leading.
"She has committed herself to bring the full force of the law to systematically, consistently and firmly ensure that the perpetrators of these most heinous crimes are punished and that the victims are recognised and listened to. The University of Dundee is extremely privileged to confer this honorary degree."
Read Other Articles In Article (Archive)