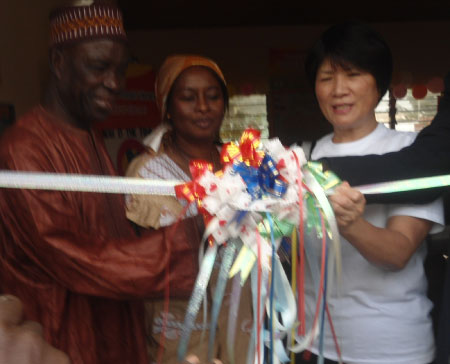 Hundreds of people yesterday afternoon converged at the Serrekunda East Olypmafrica Center for the official inauguration ceremony of the Gambia National Olympic Committee's Library Project called "Thank You Small Library".
The TYSL initiative focuses on establishing small libraries in underprivileged communities where children do not have access to reading and studying facilities, with the main purpose of providing both educational and entertainment opportunities through the enjoyment of reading, GNOC officials said.
The President of the Gambia National Olympic Committee, Alhajie Momodou Dibba, in his launching statement said he was delighted to welcome everyone to what he called an historic event.
"It is indeed a great delight for me to welcome you all to this historic event, and I must thank Ambassador Dho for collaborating with the Gambia National Olympic Committee, to open two libraries in The Gambia at the same time.
"I understand Thank You Small Library (TSSL) projects have been initiated by the UNWTO ST-EP Foundation in 2006. The UNWTO/ST-EP foundation has a core mission of supporting poverty alleviation through the funding, implementation and promotion of development porgrammes and projects contributing to the Millennium Development Goals (MDG) of the United Nations.
The project offers educational opportunities to poor communities, as a key basis for their sustainable development. The TYSL model is based on Korean knowhow and experience in poverty alleviation, said Dibba.
He used the occasion to praise the Gambian leader President Yahya Jammeh for what he described as his role in creating the enabling sporting environment geared towards the development of sports in The Gambia.
Also speaking at the launch ceremony was Ms Beatrice Allen, GNOC first vice president and also an IOC member, who said it took the GNOC more than one year to establish the two libraries.
 "The libraries contain a thousand books and a computer, as well as various books authored by Gambian writers and HIV/ Aids sports library, a school library for students and others.
She also used the opportunity to thank Ambassador Dho and company for their valuable role in making sure the libraries are established, and was hopeful that the project will be replicated in other parts of the country.
In attendance at the launching ceremony was the Education ministry's representative, Abdou Wally Mbye, who is the Director General of the National Library, and Ambassador Young Shim Dho, chairman of Step Foundation who both spoke at the ceremony.
Read Other Articles In Article (Archive)