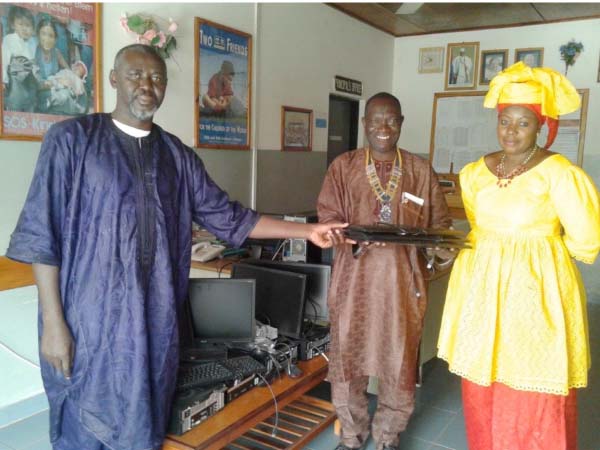 The Rotary Club of Banjul at the weekend donated computers to SOS Junior and Senior Secondary School at a presentation ceremony held at the school ground in Bakoteh.

According to officials, the presentation was in fulfillment of a request for support made by the school for the club to help enhance the school's IT lab.
Receiving the materials on behalf of SOS school, Fatou Bin Jobe, vice principal of SOS Junior Secondary School, thanked Abdoulie Cham, president of Rotary Club of Banjul, on behalf of all Rotarians in the club for donating "these highly needed equipment" to the school.
She assured that the materials would serve its purpose of developing the IT skills of the children.
Abdoulie Cham, president of Rotary Club of Banjul, said it is a pride for the club to support a school like SOS whose main support is from abroad.
"If other people are supporting our own underprivileged children, I see no reason why we should also not try to replicate such support," he said.
"The Rotary Club of Banjul has SOS at heart that is why we did not hesitate when we got the letter of support."
Mr Cham disclosed that the club is to receive a consignment which includes computers and furniture that will also be donated to SOS school.
He said the role of Rotary, as non political organisation, is to serve one and other with the sole objective of putting smiles on the faces of the underprivileged people.
The club's membership is opened to all who are interested.
Alhagie Suso, a Rotarian, said the doors of the club are always opened to SOS because the club is mainly dedicated to supporting underprivileged people such as those found at SOS.
Read Other Articles In Article (Archive)