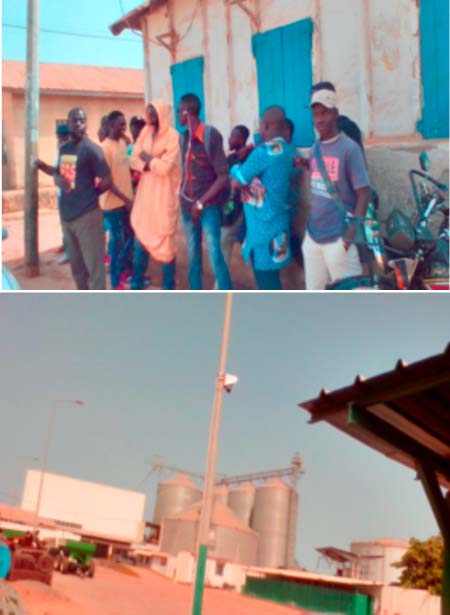 Young people working at the Gambia's only flour company, Gambia Milling Corporation (GMC), yesterday embarked on a peaceful protest demanding a salary increment, quality and dignified working conditions, 100 per cent health insurance, protective working gears and non-discrimination at work.

They also called for the resignation of their Human Resource Manager and other top senior officials, who allegedly abused their labour during work.
Njaga Joof, one of the complainants, who works at a section for packaging the flour, said he had been working at the company for three years.
He said they had been given a lot of unfulfilled promises, adding that their health insurance did not cover their families, and they are to pay 20 per cent for it.
Joof said it is "unacceptable" to them because the health insurance, which in the first place should be 100 per cent provided, should also cover their families.
The management promised to increase their salary every year, but they only increased it from 5% or 7% maximum, he said, adding that for three years now, none of them was paid up to D5,000.
He said they are working for 8 hours with no night allowance and without a break in three shifts, but the highest they are paid is D4,200.
"When we were starting, they paid us D3,000 and promised to double that amount when we work for three years. This was what we agreed on and it was even signed by us. Then later they made it an open contract, which we did not sign."
Joof said this was the first time they had staged a protest, because the past regime did not allow them to protest; so they suffered in silence.
He revealed that one of their co-workers even had an accident and lost his right hand during work, but was not compensated for that.
"We demand for them to increase our salary, staff us, and respect us," he added, saying they are 300 workers and they were being "enslaved" by the working condition.
"We are directing these messages to President Barrow and his government to come to the aid of the youths. We want them to help us improve our working conditions."
Marie C. Jarra, company receptionist, who started working with the company since its inception, said their current boss had taken things from bad to worst.
"We are Gambians, and we are the ones doing the donkey job moving the company forward, whilst the foreigners sit in their offices browsing the net and watching videos."
Omar Saho, who is also working at the company, echoed similar sentiments, saying they need a medical card that will ensure timely visits to the hospital when one is sick, instead of having to go through a rigorous process involving the company's HR office to be able to go to the hospital for treatment.
When the press requested to speak with the HR officer, Abdoulie Karaan, he said he was in a meeting with the SO and Commissioner of Police, and could not tell the press anything until the meeting was over.
He asked the media personnel present to leave their numbers with the guard, and he would call them later to comment on the situation.
That call is yet to arrive.
Read Other Articles In Article (Archive)