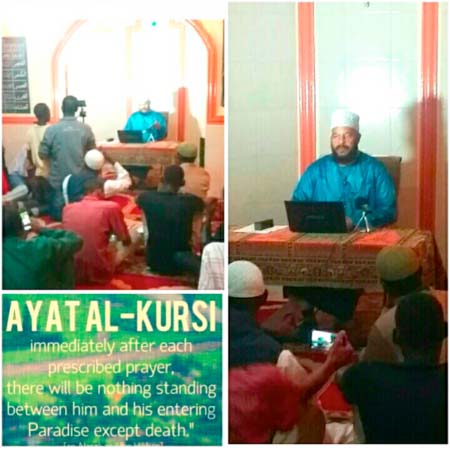 Dr Bilal Philips, the globally known islamic preacher and founder of the Islamic Online University, on Saturday 25 February commenced a series of lectures on the interpretation and explanation of the Holy Quran's "greatest and most powerful verse".

The five-day in-depth lecture on Ayatul Kursy (the Verse of the Throne) that run from Saturday 25 February through to 1 March 2017 will take place at the Masjidal Minaa in Pipeline at 6pm onwards.
It is an obligation upon every Muslim to understand the interpretation of the verses in the Holy Quran, especially those that serve to protect, increase your memory, ease the pain of death, among others.
The country representative of IOU in The Gambia, Aminata Jaiteh, said the series are meant to create awareness and clear misconceptions about the 'greatest ayat' in the holy Quran (Ayatul Kursy).
Dr Bilal Philips said the series were programmed to last for five days because the verse (Ayatul Kursy) contains 10 separate clauses which needed to be deeply and independently explained.
''One might wonder how and why these series is going to take us for five days or possibly more and each day two sessions. This is because in reality Ayatul kursy consists of 10 separate clauses, and each clause is like a verse of its own," the Islamic scholar said.
He added that they would be closely looking at it stage by stage to understand the different statements made by Allah in this single verse.
He quoted the Prophet Muhammad (PBUH) as having said: "Death is the only separation between Paradise and the one who recites Ayatul Kursy after every obligatory prayer."
Dr Bilal Philips has written over 50 books and has given 100s of lectures worldwide on numerous topics on Islam and comparative religion.
He is the founder of the Islamic Online University (IOU).
Join Dr Bilal Philips for a five-day in-depth tafseer/interpretation of the Ayatul Kursy.
Read Other Articles In Article (Archive)