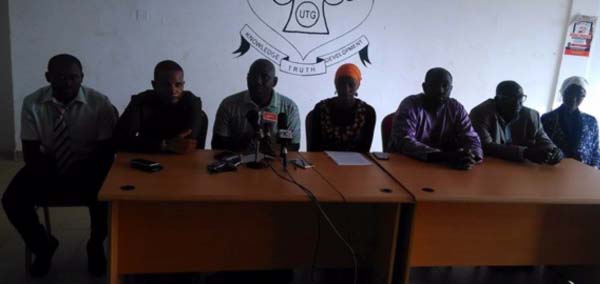 The University of The Gambia Faculty and Staff Association (UTGFSA) has said it would start an indefinite sit down strike beginning tomorrow, Wednesday, "until such a time that our demands are met".

At a press conference held yesterday at the UTG School of Business and Public Administration in Kanifing, the association renewed its demands, which include the resignation of the vice chancellor and the dissolution of the university's senior management team, "for mismanaging resources and misplaced priorities".
"Earlier this month, we learned with utter dismay, the vice chancellor and his senior management's purchase of 6 new vehicles which cost close to D8 million," said Dr Ismaila Ceesay, president of the UTGFSA, at yesterday's press conference.
"The management has proven that they have zero regards for all the persisting problems, including the poor working and learning conditions for the staff and students.
"This is the only university in this world without a website; this is the only university in this world without internet access for both students and staff; this is the only university with no standard library, and it is the only university where students and staff queue to use the same toilet," he lamented.
"This is the only university in this world where staff have low work morale because there are no staff incentives, and it is the only university where research is not encouraged."
Dr Ceesay said as a result of the challenges, UTGFSA would embark on a sit down strike effective 1 March 2017 "in the interest of the university and the country".
"The strike will, consequently, affect the students in the short term, but will have a long term benefit because if these people continue to manage the university, there would be no development and that is not in the long term interest of both the staff and students," he added.
Last week, the vice chancellor, Prof. Faqir Anjum, and his senior management team responded to the memo of UTGFSA by threatening to drag the association's president, Dr Ceesay, to court for allegedly defaming him and his senior management.
The Office of Vice Chancellor said in a statement that Dr Ceesay "must show cause why disciplinary action should not be taken against him by the University of The Gambia, his employer".
"The Vice Chancellor and the UTG reserves the right to sue Ismaila Ceesay for character assassination and defamation," the statement added.
Read Other Articles In Article (Archive)