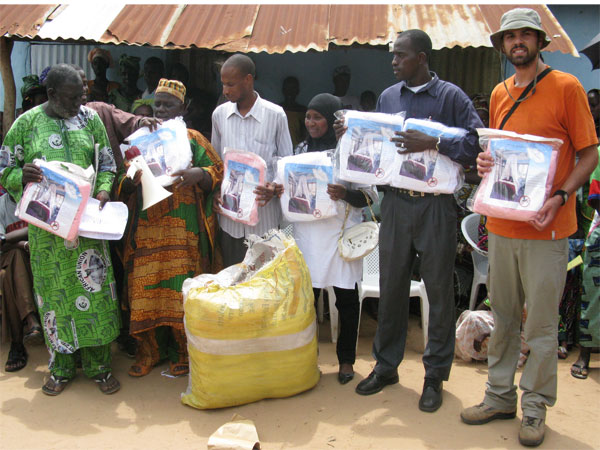 As part of activities marking its second anniversary, Global Unification-The Gambia (GU), recently donated insecticide treated bed nets to the people of Mandinaring in Kombo North District.
The bed nets where said to have worth over D12,000. The fund for bed nets was provided by two philanthropists from Spain as part of their contribution to the joint project called Stop Malaria.
In delivering the bed nets to the women of Mandinaring village, Mr. Ebrima S. Dem, The National Representative of Global Unification in The Gambia, thanked the women for the warm welcome accorded to them. He expressed his delight on behalf of his association for working with people of Mandinaring in the fight against Malaria in the region. He said the bed nets are of high quality and are already treated with harmless insecticide at the point of manufacture and hence does not require further dipping at least for six months. He added that Global Unification -The Gambia, being a research and development association, has special interest in the country's health sector and thus felt obliged to contribute their quota in complimenting government efforts to ensure a healthy society in The Gambia. He informed the gathering that malaria is still a major health problem in the country which requires a concerted effort by all and sundry.
He went on to say that apart from the provision of bed nets, the project will also embark on other cost-effective mechanisms in combating malaria, such as training and sensitising people. This he said will improve the capacity of local communities in malaria prevention and treatment.
Speaking on behalf of the Stop Malaria Project Team in Spain, Mr. Iago Vasquet also hailed the entire community of Mandinaring for the warm welcome accorded to them. He expressed his personal appreciation to Global Unification for spearheading the project in the interest of the local communities. He asserted that malaria was once a major health problem in Spain but was quick to add that due to collective action and genuine commitment, they eventually eradicated the killer disease. He stated that a similar holistic approach could be applied in The Gambia thereby moving the country forward in its continued fight against the disease. He assured the community of Mandinaring and environs of his unflinching commitment to support them at all time.
In receiving Bed nets on behalf of his Village, the Alkalo, Mr. Faa Ceesay, thanked Global Unification and their friends from Spain for choosing Mandinaring, a move he called a laudable initiative. He said the bed nets would go a long in preventing the spread of malaria in the village. He assured them that the nets would be put to good use.
Other speakers at the presentation included Miss Fatoumatta Bah, National Treasurer, Global Unification-The Gambia and Miss Noemi Fusker from Spain.
Read Other Articles In Article (Archive)