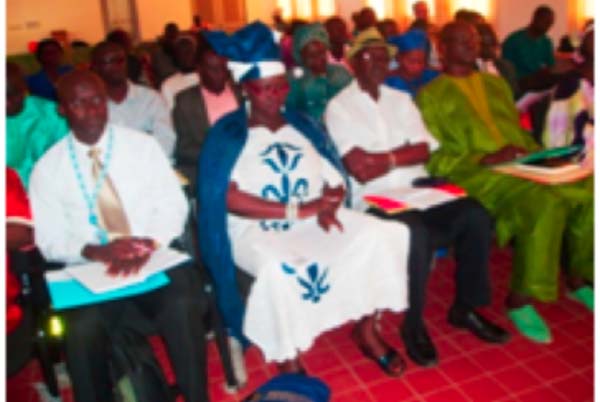 (Issue, Tuesday 31st March 2015)
The Gambia National Commission for UNESCO, in collaboration with the Ministry of Basic and Secondary Education, Thursday launched the Global Monitoring report at a ceremony held at the Regional Education Office region 1 in Kanifing.
The theme for this 11th EFA global monitoring report is "teaching and learning: achieving quality for all".
The forum was also meant for stakeholders to discuss the role of teachers in improving the indicator on EFA Grade 6 drawing from best practices highlighted in the Global Monitoring report.
The report highlighted, among other issues, global challenges related to quality education, and provided a timely update on progress on global education goals agreed upon in 2000.   
In giving the welcome remarks, the Secretary General, Gambia Nation Commission for UNESCO, Momodou Sanneh, said the report had an annual agenda for reporting progress on each of the six EFA goals.
He added that each edition also adopts a theme, chosen because of its importance to the EFA process.
He stressed that the theme for this year's edition is: "Teaching and learning: achieving quality for all", and the launching in The Gambia would be contextualised to reflect thematic issues that border around teacher training, curricula improvement and teacher welfare, adding that these would be deliberated upon through the use of two platforms: English and a local language.
Mr Sanneh said the instrument, among other things, tracks progress, identifies policy reforms and best practice in all areas relating to EFA, as well as draws attention to support of education.
"The GMR publication is gazette at decision-makers at the national and international levels, and more broadly, at all those engaged in promoting the right to quality education, especially teachers, civil society groups, NGOs, researchers and the international community," he said.
In his statement, Ebrima Sisawo, deputy permanent secretary Administration and Finance at the Ministry of Basic and Secondary Education, said access, quality and relevance are critical words for the Education ministry.
DPS Sisawo noted that all the programmes of the ministry "are anchored on these words", thus providing a guide to whatever they do.
"Virtually every community in The Gambia has easy access to school," he said. "10 years ago, the enrolment total was 132,591; increased in 1994 to 411,443; lower basic school increased from 105,471 to 274,439; upper basic from 17,899 to 87,391; and senior secondary from 9221 to 49,113.  We have been able to achieve this through the implementation of several strategies."
He mentioned some of the strategies as building more schools, and providing customised transport in some deprived communities using a participatory approach involving communities.
Mr Sisawo said the forum is not so much about what is being achieved, but what is yet to be achieved.
"Let us use the outcome of the report to guide us in improving our strategies and quality of education," he added.
In his presentation, the deputy secretary general of the Gambia Teachers' Union, Essa Sowe, whose topic was based on teacher welfare and quality education, stressed that teachers are the core of any school and education system, thus their role in quality improvement is paramount.
Isatou Ndow, vice principal, who doubles as the head of School of Education at the Gambia College, also made a presentation on the topic "pre-service training and quality education initiatives to improve quality education".
She said professional preparation and development of teachers is a continuous process.
She described pre-service education as education of teachers before they enter into service as a teacher, adding that it is important for teacher educators to learn the methodology of how to get in touch with the core qualities of a good teacher, and how they could inculcate these qualities in student teachers.
Read Other Articles In Article (Archive)