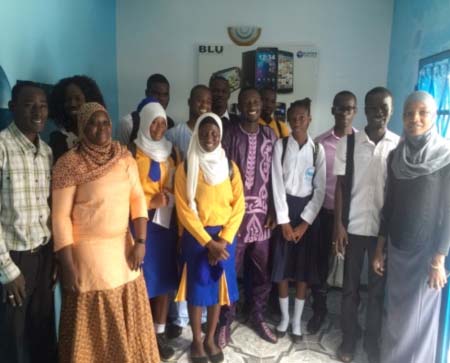 Global Hands Gambia on Friday engaged chief executive officers and founders of Future Tech, and Blue Tech IT companies to share the journeys of their achievements with students.
Alagie Busso of Future Tech and Amadou Ceesay of Blue Tech inspired the 15 students and encouraged them to take initiatives and venture into entrepreneurial activities instead of risking their lives through the perilous journey to Europe and America.
The event is part of the 'Third Dream Project' of the local affiliate to the Global Hands International, the UK.
Alagie Busso, before establishing Future Tech, was working at KMF Technologies where he served for less than a year and ventured into his own show.
Amadou Ceesay told the students that he was opportune to have a scholarship, in the year 2000, to the UK where he studied software development for two years.
He said he later worked for Virgin mobile and Orange broad band as a customer care agent offering broad band services.
Mr Ceesay said he came back in 2008 and took up employment with Unique Solutions where he served for three years.He told the students that the founder of Unique Solutions, Papa Njie, is his mentor.
He said he left the company in 2012 to partner with a guy from the US to start a company called New Centuries but the partnership could not continue after one year.
"After that, I decided to establish my own company called Blue Tech. I left New Centuries without any cash but with family support, I was able to establish my own company with less than D100,000," the founder of Blue Tech said.
One of the first projects of the company was the establishment of an online business directory for The Gambia called findit.gm.
Mr Ceesay said he is currently working on establishing another company to provide solar panels to communities.
He told the students that achieving a dream in life is a tough journey that requires perseverance and integrity; giving up is never to be an option.
In May 2015, Ceesay was awarded 'Young Entrepreneur of the Year' by the Gambia Chamber of Commerce and Industry.
Mr Ceesay and Mr Busso are now into partnership because according to them, they shared similar goals.
Speaking on the occasion, Abdoulie Nyass, secretary general of Global Hands, said the organisation has implemented various projects on reproductive health, Ebola health campaign, school folder project and recently the dream project.
Alieu Gaye also of Global Hands said the dream project is aimed at building the dream minds of young people in entrepreneurship.
The project was developed based on the fact that young people need inspiration and motivation to believe in themselves and know that they can make it in The Gambia instead of risking their lives through the perilous journey to Europe.
The project focuses on building the capacities of young people by taking them to successful Gambian entrepreneurs to share their stories.
Since inception, the project has positively impacted the lives of many young people by providing them with internship opportunities to horn their skills in entrepreneurship.
Read Other Articles In Article (Archive)