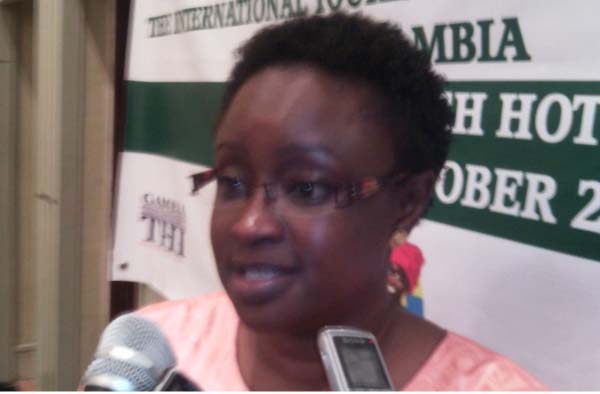 The Gambia Tourism Board (GTBoard) is not only working to increase the number of tourists to The Gambia, but also quality tourists that would bring good return on investment, said the director of international marketing of the GTBoard.
Ida Jeng-Njie made this remark while speaking to journalists recently at a hotel in Kololi, shortly after the official closing of a two-day international stakeholders forum organised by the GTBoard in collaboration with the Ministry of Tourism and Culture.
"The forum is very important to the Gambia Tourism Board, because we hired and entrusted them [international stakeholders] to bring tourists to the destination (Gambia).Not only to bring tourists, but to bring quality tourists that would give us a good return on investment in whatever we are investing, and also the numbers that are required," Mrs Jeng-Njie said.
"As a destination, we are targeting Vision 2020 with the aim of increasing tourist arrivals.Therefore, whosoever we are to entrust the entire destination will have to be somebody who is capable of assisting us in meeting our targets. And one of our targets is to increase tourist arrivals from the UK market, because we believe that the destination Gambia is not known very well in the UK," she added.
Last year, the GTBoard hired public relations firms and marketing representatives to help The Gambia in their various countries.
The GTBoard's director of international marketing said: "The Gambia as a destination is far better than many other destinations in the UK in terms of products.Besides, there are other factors that The Gambia has and other destinations do not have, such as peace and instability."
Mrs Jeng-Njie also explained that they were trying to penetrate the Nigerian market over the past three years, but due to the Ebola crisis tourist arrivals from Nigeria declined last year.
"We believe that we would still gain that market because if you look at the Nigerian market, most Nigerians go to Ghana and what they go for in Ghana we have it here in The Gambia," she said.
Adama Njie, director of marketing at the GTBoard, said the two-day international stakeholders forum was very important, because a lot of issues have been discussed with the PR firms for marketing The Gambia.
"We have a strategic plan and as part of that plan we have to look at what
had gone wrong to rectify it, and what has gone right so that we can do it better next time.
Read Other Articles In Article (Archive)