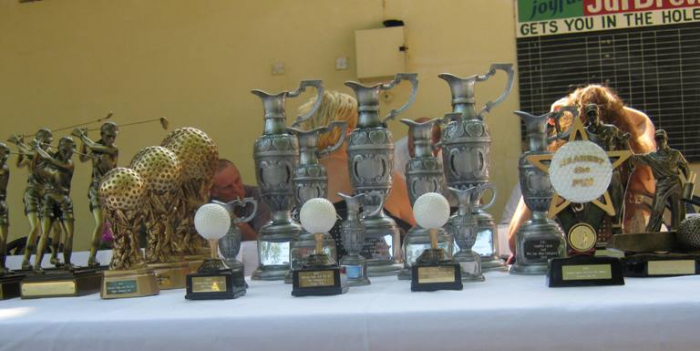 The Gambia Golf Association (GGA) will host an International Golf Tournament called the Gambia Open and Pro-Am Golf Competition from 8 to 13 December 2010.
The tournament, which will be staged at the Fajara Golf Course, is expected to bring together 30 professional and 50 amateur golfers from Africa and Europe.
Speaking to Pointsport ahead of the eagerly awaited competition, Ebrima Jawara, president of the GGA, said their sponsors will include H.E. Sheikh Professor Dr Alhaji Yahya A. J. J. Jammeh, Sir Dawda Kairaba Jawara, Lady Njameh Jawara, the Gambia National Olympic Committee, Pristine Consulting, Banjul Breweries, Gamwater, Gacem Company, Augustus Prom, Prime Bank Gambia Ltd, Greentech, and Transphere Printing Services, and the association's president Ebrima Jawara.
The GGA president also revealed that they have secured partnership deal with the National Sports Council and the Paradise Suites Hotel. The tournament is the first of its kind to be organised by the GGA, Mr Jawara says.
The competition is expected to bring together 38 golfers from Senegal, as well as 16 professional and 22 amateur golfers from The Gambia the host.
Nigeria will also be represented by 3 professional golfers, Ghana 2 and Sierra Leone 1, according to the GGA president.
Jawara further disclosed to this reporter that they are also expecting a Gambian Swedish-based professional golfer as well as Fakebba Drammeh, aka Gambian Tiger Woods, who is already in the country from England.
The president of the Senegalese Golf Federation is also expected to participate during the competition, he said, adding that registration for the competition is free of charge for the professional golfers while the amateur golfers will pay D750.
Mr Jawara said the main prize for the professional golfers, which is the President Prize is US$10, 000 sponsored by the President of the Republic of the Gambia. There will also be cash prizes and trophies for both the professionals and amateurs at the end of the competition.
The competition, Jawara added, will witness the award ceremony for the winners to be held at the Paradise Suites Hotel in Kololi on 12 December 2010.
The professional golfers will play on 10 December, the amateurs on 11 December and Pro-Am on 12 December 2010.
He urged the general public to come in their numbers to watch the competition.
Read Other Articles In Article (Archive)