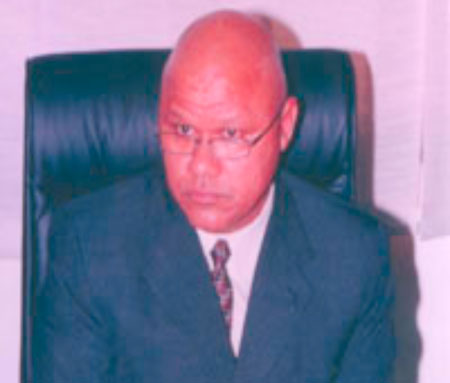 Modou Musa, currently the Managing Director of First International Bank (FiBank), is a former Gambian international player who played at all levels of the Gambian game from school to the national team.
As a young man at Gambia High School, Modou Musa carved himself a reputation as a good footballer, and was soon a regular in the school team.
An equally brilliant boy at academic work, Modou Musa's passion for football grew alongside his class work and by 1974 when he completed school, he was already drafted by Augustinians to play in the national league.
But it was at Starlight that Modou Musa reached his height in football, attracting a call from the national team where he played regularly from the late 70s to mid 80s after his studies in America.
In the USA, Modou Musa played college football, excelling as good player even among people from different backgrounds.
After graduating from the now Illinois University, Modou Musa returned home with his academic achievements in the briefcase and a much oiled pair of lethal football legs  from college football and he naturally found himself back onto the national team starring and helping Gambia to reach the memorable Zone Two tournament in Banjul in 1985.
That was perhaps Modou Musa's last match for the team but his love for the game continued.
At Bakau, where he comes from, Modou Musa was among the residents whose commitment, time and volunteerism in the local sports committee helped Bakau to become one of the best Nawetaan centres in the country.
Using his background as a respected financial manager, Modou Musa supervised and managed the Bakau funds to start the first-ever fencing project of the Bakau football field.
One of his starling achievements in Bakau football was when he succeeded in mending a bitter rift between Steve Biko and fellow Bakau side Sait Matty.
The pleasant sight of the two taking joint pictures at stadium after a bitter row is still touching and fresh in many minds.
Modou Musa then joined the GFA interim committee as treasurer in late 1992 until a new executive was elected headed by O.B Conateh in 1994.
He was head of delegation of The Gambia's Zone Two contingent to Sierra Leone in 1993, a team that proved a revelation, fighting all the way to the semifinals and restoring much confidence back to the Gambian game.
It was at this time that the now very popular Super nawettan was initiated with Mr Musa and co-interim committee members pioneering this famous community football.
After the elections that ushered in the O.B Conateh era, Modou Musa was retained as treasurer, and was elevated to second vice president eight years later under President Gabbie Sosseh.
That regime is credited for the monumental foresight of creating the Under 17s, the Under 20s and the Under 23s under a first technical directorate headed by Musa Njie, a vision that brought unprecedented success for The Gambia at youth level.
Mr Musa, now head of FiBank, is well respected for his strong management skills and good reputation as a man with strong business acumen and standing.
If elected he would combine a huge experience of football administration and a distinguished professional experience as a finance manager to the service of Gambian football.
Read Other Articles In Article (Archive)