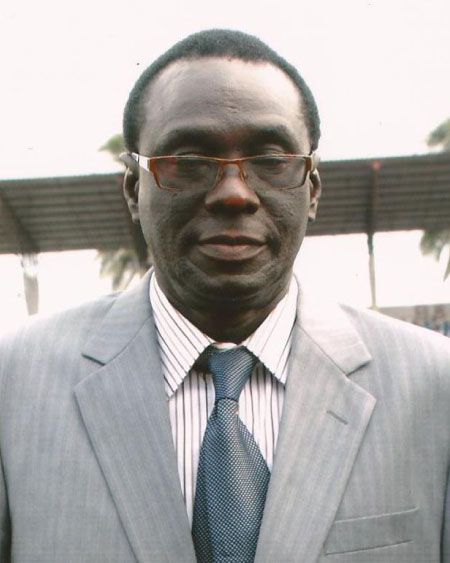 In the last two editions of The Point, our general correspondent Lamin Cham started profiling the four candidates aspiring to contest the Gambia Football Federation (GFF) presidential elections. He has covered Seedy Kinteh and Modou Musa. Now, in this piece, he features Adama Halla Samba, the first person to have declared interest in the job.
Halla, as he is fondly called, grew up in Banjul to love football at a tender age and as his preferred sport, Halla got involved in the Gambian game as player, coach and administrator.
From 1957 when he enrolled at primary school Halla Samba started playing football, and continued to Armitage among other places still playing for the school teams.
Upon completing high school, Halla's football skills were in no doubt at its best and was soon recruited to Adonis Football Club, one of the most respected first division league clubs in The Gambia at the time.
Halla stayed at Adonis for ten years, three of them as team captain, during which time he played international football with The Gambia 11.
He was so popular and admired in the field that fans likened his play to a former German International Haller, hence his sobriquet name Halla, a corruption of the name of the German player.
With a glittering club and national team career behind him, Halla Samba translated his great football skills to coaching and was appointed coach of Wallidan in 1983, turning that club to the most successful team in Gambian football.
He guided the team to record unprecedented titles, FA cups and countless trophies that made Wallidan the Manchester United of The Gambia.
In short, Wallidan won everything that was put on stage in Gambian football.
Halla's ten years as Wallidan coach landed the Blue Boys 9 league titles, 8 cups, 3 GNIC trophies, 3 S.S. Ceesay trophies, 2 Confederal trophies and 7 Super Cups.
In 1994 Halla Samba retired from coaching and was elected 1st Vice President of Wallidan and following the demise of the club's president in 2005, he was made president to date.
Giving the illustrious career and dedication he recorded in football Halla Samba was drafted into the administration of the national game, becoming 3rd vice president of the Gambia Football Association (GFA) in December 2009. In addition to this position, Halla Samba served in various committees including marketing which is credited for successfully landing a lucrative kits sponsorship deal with Saller Sports Wear Company in Germany.
In August last year Halla Samba took the lead in declaring that he would run for president of the GFA, as continuation of his service to the country's game.
Outside football, Halla Samba is a successful businessman and public servant.
He served as Master of the Banjul Albert Market and has many years of good marketing and business management experience.
His football experience, administrative and business skills bring him closer to the hearts of many football fans who regard him as perhaps one of the most deserving aspirants of the football top job.
Adama Samba believes that the future of a bright footballing nation depends on the visions of the leaders who know and can feel football.
Read Mustapha Kebbeh's profile Monday.
Read Other Articles In Article (Archive)