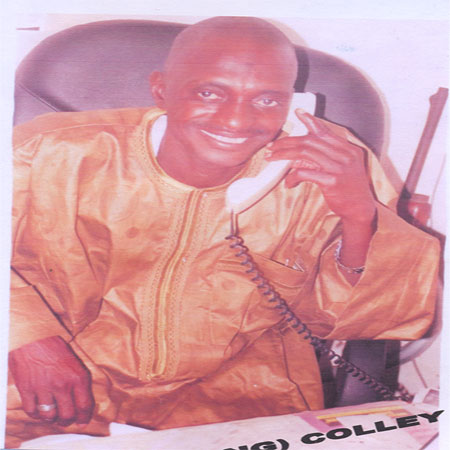 The second vice president of the Gambia Football Association, Lamin King Colley, who doubles as the chairman of the Organizing Committee of the association, yesterday formally reopened a media/press conference room for sports journalists.
The pressroom, located next to the players' dressing room at the Independence Stadium in Bakau, is set aside for sports reporters to conduct interviews after the matches.
The decision by the country's football association to allocate the said conference room for sports journalists is meant to avail the country's reporters the unique opportunity of being in a better position to perform their duties fairly and professionally, in an atmosphere of peace and harmony.
It would be recalled that a war of words ensued between security personnel and sports journalists after reporters were refused access by some security officers to players and coaches for interviews in the aftermath of the Gambia versus Ivory Coast match in the qualifying campaign for Libya 2011.
"The GFA's decision to formally reopen the media centre for sports journalists emanated from our last organizing committee's meeting held at the GFA secretariat under the directive of the GFA and - thank God - the problem is a thing of the past now," Lamin King Colley said to members of the Sports Journalists Association of The Gambia at the Independence stadium.
According to King Colley, the move is a fulfillment of a promise made by the organizing committee of the Gambia Football Association that it would provide a media room with chairs and a conference table for sports journalists.
King said the primary aim of the GFA is to help sports journalists to get access to all facilities needed for the smooth discharge of their functions.
"We want all journalists to feel comfortable in performing their duties, without fear or favour, for the interest of the development of sports in the country," King, a well-known sports personality, said.
In responding to a question raised by one of the reporters regarding the possibility of running advertisements for journalists at the media room, King said: "I will forward the issue to the Stadium management - if it is possible."
King also said that issues such as the mix zone interview with players and the early release of match fixtures by the GFA technical director have also been taken care of.
A few years back, the same media conference room was identified for journalists but the room was not used for its purpose in countless occasions.
With this latest development, the journalists are assured of getting easy access to the room for easy coverage of matches.
Read Other Articles In Article (Archive)