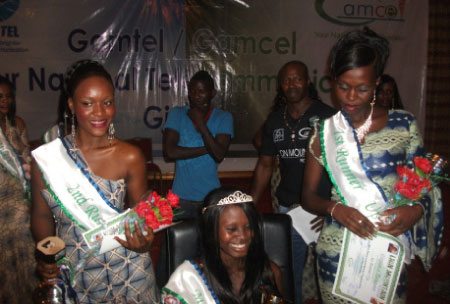 The much talked about Miss Sierra Leone 2012 Beauty Pageant organised by Lion Mountain Production – The Gambia was held on 16 June 2012 (The Day of the African Child) at the Sunswing Hotel Resort formerly Jaama Beach Hotel in Senegambia The Gambia, ended with Miss Bombali emerging as the new Miss Sierra Leone 2012 (Miss Salone 2012).
The event has always been part of the Sierra Leone Independence anniversary celebrations organised by the Lion Mountain Production for the Sierra Leonean community in The Gambia.
Sophia Byass, Miss Bombali cum Miss Salone 2012, was a high school graduate from SOS Senior High School in The Gambia. She told the audience she wanted to become a lawyer in the future.
The 19-year-old has command of the English language, which gave her an edge over others having grown up in the midst of educated parents - her father being a teacher.
She also possesses an appealing motion, as well as being cute, lovely and above all blessed with the inner beauty of being talented.
She is a talented singer and rapper, a demonstration of which coupled with her beauty, eloquence, confidence, smiles and styles that enthralled the crowded audience at the June 16 event.
The first runners-up was Miss Bo by the name of Edna Carney. The 19-year-old beauty is a tall pretty and talented young lady full of charismatic values. She showcased a talent in playing the piano; which moved the entire jam-packed hall especially as she thrilled the audience with the Sierra Leone national anthem, with Sierra Leoneans in the hall singing alongside the splendid figure. 
The second runners-up also went to Miss Freetown, named Yeama Dorance Palmer, also 19. She is an average-height beauty who possesses natural looks that mesmerizes the judges; her cat-walk, body contour and body language was appealing and captivating; her broad smiles and talents proved beyond all reasonable doubts that she is a would-be international model in the future.
The talented dancer had been into pageantry for a while and has won some accolades in beauty pageant in Banjul over the years.
What makes the Miss Sierra Leone - The Gambia 2012 a success and unique event was the fact that the contestants were representing the 12 districts of Sierra Leone and the capital city Freetown. This year, 10 ladies took part in the contest representing the capital Freetown and 9 districts of Sierra Leone, with 3 failing to make it.
The Contestants for 2012 were as follows: Yeama Dorance Palmer - Miss Freetown, Jariatu Kamara - Miss Port Loko, Rugiatu Sesay – Miss Moyamba, Sophia Byass - Miss Bombali, Mariama Bangura - Miss Kambia, Edna Carney - Miss Bo, Genevive Emma Natatia Bangura - Miss Kenema, Monica Fatiaya Kpange – Miss Kono, and Aminata Bongay - Miss Kailahun.
Read Other Articles In Article (Archive)