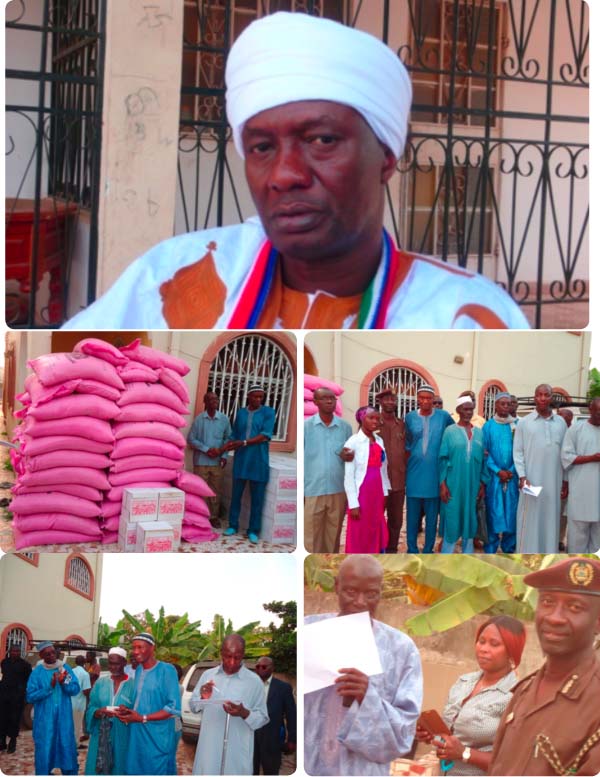 Renowned Gambian business tycoon, Modou Turo Darboe, Chief Executive Officer of Vision Development Foundation (VDF) Tuesday 23rd December 2014 presented 50 bags of rice and 50 cartons of beverages worth D237,000 (two hundred and thirty-seven thousand dalasi) to the Christianity community in The Gambia, as part of his contribution in supportingthem celebrate Christmas.
The presentation of the gifts coincided with the presentation of various cheques amounting to D547,410 to various government institutions, including the Gambia Immigration Department, students, GPF, the private sector and needy students, as well as NGOs.
The aim was to support them in their community-based development initiatives, and the presentation ceremony was held at his VDF sub-office in Churchill's Town.
Speaking at the presentation ceremony, Adama Jeng, Vice Chairman board of directors Vision Development Foundation, said Modou Turo Darboe has been involved in supporting various development activities of government institutions, NGOs and other organization, and that Mr. Darboe has been involved in this over many years now.
He noted that giving out such a magnificent amount to the needy students, security personnel, and the private sector was something worthy of commendation.
He also advised the students who are beneficiaries to utilize the money for its purpose, and continue coming out with excellent results in school.
According to Mr Jeng, the achievements of Mr Darboe cannot be mentioned all, as Darboe has done a lot for this country, including the rehabilitation of roads in the communities and supporting different religious groups, both Muslims and Christians.
VDF Senior Programme Officer, Modou Lamin Jagne, also expressed similar sentiments, noting that VDF has 4 to 5 thematic areas, which are: Education-related areas; community infrastructure development; poverty alleviation; health related assistance; as well as complementing the government's efforts through supporting different public institutions.
They are witnessing yet another presentation of cheques amounting to D547,410 to various institutions and communities to support their development initiatives, he announced, and thanked Mr. Darboe for his wonderful achievements over the years.
Speaking on behalf of the Christian community in The Gambia, Reginald John expressed appreciation for the gifts provided by Vision Development Foundation under the coordination of Modou Turo Darboe.
It was a surprise to him to come and receive this mighty gesture on behalf of the Christianity community in The Gambia, Mr. John said.
The gifts would go long way in helping some families in this Christmas celebration, he said, and thanked Mr Darboe for the love that he has for both Gambians and non-Gambians.
This was a clear testimony that Mr. Darboe has no boundary and limit in helping the poor and the needy, he added.
Mr. John challenged everybody, particularly those that have the potential to emulate Mr. Darboe's kind gesture.
He said The Gambia needs more Modou Turos, who treat everybody equally whether you are a Muslim or Christian. 
Read Other Articles In Article (Archive)