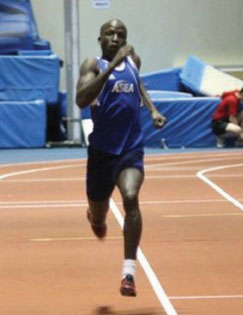 Gambian international Athlete Momodou Lamin Kujabi, who performs for Athletisme Sud New Brandwick, has won another athletic indoor championship in Moncton, Canada, after finishing ahead of Smith Spencer of Panther Tract in the last indoor meet in Canada at the weekend.
The 17-year-old athlete, who moved to the Canadian athletic team last August, made a remarkable performance and finished the 400 metre Dash in 1st position at a time of 52.54, 34 seconds ahead of his closest rival Smith Spencer of Panther who secured the second place at a time of 52.88 min, a thrilling athletic indoor championship in Moncton.
Kujabi's teammate Coholan Alexandre secured third place as he finished the 400 metre run at a time of 52.25 with Arcy Tyler of Truro Tract athletic side securing the fourth place at a time of 54.83.
Another athlete Mcneil Matthew of Saint John T finds himself at the bottom of the result sheet.
Kujabi's impressive performance in the 400 metre run was followed by another eye-catching display when he won another athletic competition in the 200 metre run finishing at first place.
The win for Kujabi, who continues to make a huge impact since his move to Canada in 2010, has brought his total number of victories to four.
"It was a great moment for me to achieve such a remarkable success," the talented Gambian athlete said. "It will be nice for me not to forget my home land The Gambia, because I really like my country and there is no place like Home.
"I still maintain a great love for the Gambian people, especially my fans and the Gambia Athletic Association in particular as well as my teammates who have always been great.
"With enough support to the Gambian athletes, they can achieve the desired result hence the GAA alone cannot do it."
Kujabi, who has set his eye on earning a spot in the 2012 London Olympic Games, said: "There are a lot of great talents in The Gambia who if giving the necessary support can represent the country at the next Olympic Games and perform extremely well.
Read Other Articles In Article (Archive)