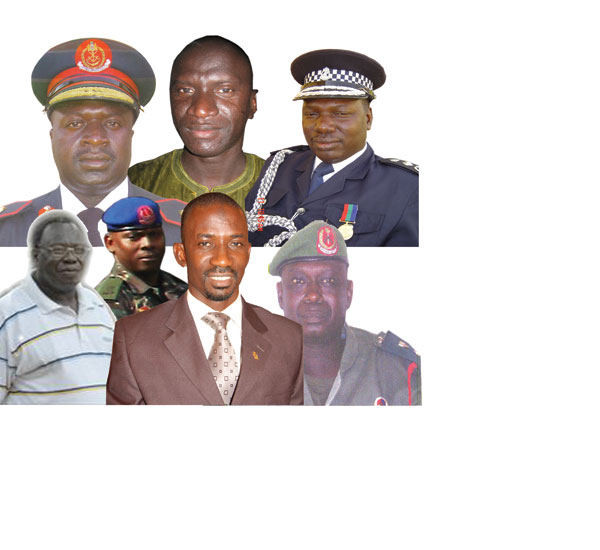 The appeal case of ex-chief of defence staff Lt. Gen. Lang Tombong Tamba and six others at the Gambia Court of Appeal yesterday resumed before a three-member panel of judges headed by appeal court president Justice J. Wowo.
Lang Tombong Tamba and six other appellants are appealing against a death sentence imposed on them by the High Court in Banjul in July last year, after it found them guilty of treason.
The other appellants are Brigadier General Omar Bun Mbye, Col. Lamin Bo Badjie, Modou Gaye, Gibril Ngorr Secka, Lt. Col. Kawsu Camara (alias Bombardier) and Adoulie Joof.
Yesterday's hearing of the appeal was expected to see the adoption of briefs submitted by both appellants and the state respondent, but this did not happen.
"I was served with the state respondent's briefs on 24th February 2011, and in the view of the fact that the court has ordered for us to reply within seven days on points of law, we are applying for an adjournment so that the court could adopt our briefs and we reply on points of law on or before the 7th March 2011," senior counsel for the appellants, PCO Secka, told the appeal court judges.
The Director of Special Litigations at the Attorney General's Chambers, Daniel O. Kulo, also informed the judges that they have filed their briefs since 7th and 21st February 2011.
Justice Wowo then ordered both parties to provide the court with authorities cited by them in their respective briefs, and subsequently adjourned the case till 8th March 2011 for adoption of the briefs.
He told the appellants to reply on points of law, after receipt of the state respondent's briefs.
Read Other Articles In Article (Archive)