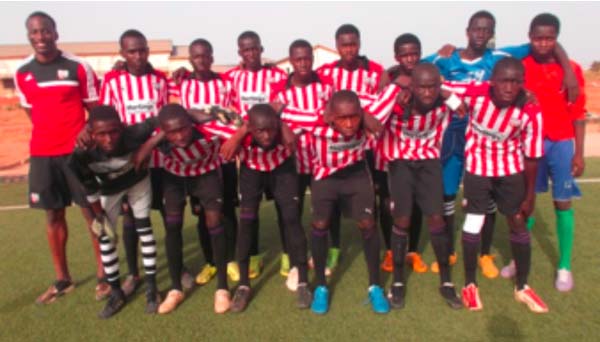 As part of efforts at strengthening the existing relationship between the Lamin-based KGH Sports Football Academy and Brentford FC Academy in the UK, the latter has sent in a coach to The Gambia who has stayed for two weeks understudying the Lamin-based academy.
Brentford FC, a championship league team in the UK, has ended the 2014/2015 season with remarkable achievement of 5th position, and got promoted to championship in the same year. The club also lost it play-offs for premiership sport to Middleborough FC.
Nathan Thomas, a UEFA B License and FA youth module 3 badge holder has enjoyed a two-week stay in The Gambia for a football study visit with the KGH Sports.
During his stay here in The Gambia, Mr Thomas has undergone visits to almost all football domains in the country, and his first courtesy was at the GFF Technical directorate where he was giving details surrounding the Gambian football and its future prospects.
Mr Thomas really appreciated how ambitious the Gambian TD was to his post and how rapidly he climbed up to that level.
Mr Thomas also held sessions with lads at KGH Sports Football Academy and at the Universal Football Academy of Lamin.
He also took part in the Late Lamin Sarr Memorial tourney as a guest donor and at the 2014/2015 season review of The Gambia football coaches association as an observer.
According to Mr Nathan, from his own words: "I really cannot emphasize in words how much of a great opportunity Yahya and KGH Sports afforded me and the long term development of me as coach but more importantly, as individuals you gave me with all I experienced in The Gambia.
I want to thank you for allowing me to have two of the best weeks I have experienced in my personal and coaching life whilst in the presence of KGH Sports Footballing Academy kids and coaches who are always giving me that Smiling Coast smile on their faces. Yahya Manneh and all in turn helped me embrace your culture as best as I could."
He said he would not hesitate to come back sooner than later.
For his part, Yahya Manneh, founder and head of coaching affairs at KGH Sports football academy, thanked the Brentford FC Academy in UK - from Mr Osie the academy director to Mr Stuart English, head of coaching affairs, for their concern for the Lamin-based academy.
He said he really appreciates the visit of Mr Thomas, especially for his accepting to stay within the base in Lamin.
He also thanked the relevant Gambia football stakeholders for their openness to their understudy coach, especially the President of GFCA, Pa Suwareh Faye, and Ebrima Manneh for his openness in accepting Mr Thomas at the GFF office.
He also hailed the GFF for the recent achievements in the country's football structures.
Read Other Articles In Article (Archive)