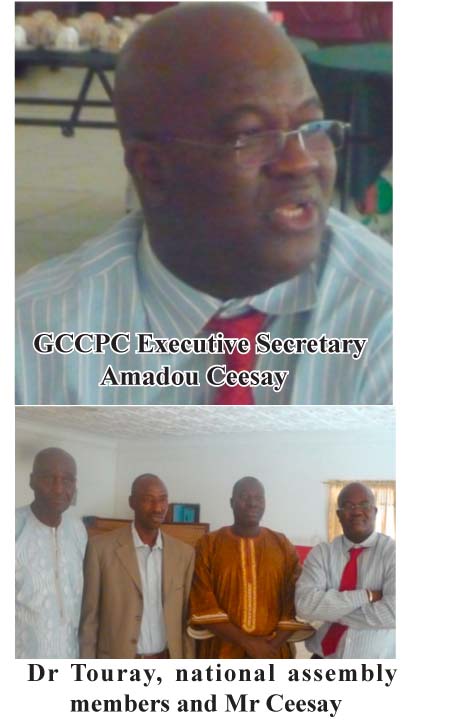 The Gambia Competition and Consumer Protection Commission (GCCPC) yesterday set up a 6-person thematic committee that will look at "consumer protection issues in the health sector", as outlined in the Consumer Protection Act.
The thematic committee, set up at a meeting held at the Joint Officers Mess in Kotu, comprises Dr Omar Touray, representative for consumer protection groups, Ms Markieu Janneh Kaira, Executive Director of Medicine Control Agency, Modou Njie, Director of Health Promotion at the Ministry of Health and Social Welfare, Hon. Ousman Bah, National Assembly Member representative, Mustapha Alex Da Costa, an independent representative, and Fatima Sonko of GCCPC.
The committee is expected to address consumer protection issues in the health sector for the socio-economic development of The Gambia.
In his opening remarks, Amadou Ceesay, executive secretary of the GCCPC said the mandate of the committee is to look at consumer issues in the health sector, and then advise GCCPC on how to address them for implementation by the Commission.
Mr Ceesay said they also expect the committee to take on board all consumer protection issues in the health sector, as well as to look at strategies of addressing the issues.
They would work together with relevant authorities and agencies to tackle, especially, the buying of antibiotics off the counter, as well as to ensure consumers are protected.
"A healthy nation is a wealthy nation which is why we are partnering with the health sector to tackle these issues," he said.
"The committee is carefully chosen," he added, as members of the committee are experts in their fields.
GCCPC Consumer Protection Manager Ya Kumba Jaiteh, in her remarks, said the Consumer Protection Act aims to protect consumers from unfair and misleading market conducts, provides for the establishment of a Consumer Tribunal and for connected matters.
Highlighting issues of warranties and conditions of sale, Ms Jaiteh said: "Goods or services delivered shall meet the minimum standard or durability, usefulness and viability; and suppliers or providers of goods or services shall provide consumers with true, sufficient, clear and timely information on goods and services offered."
She also said the labeling on all products "shall be legible, visibly printed", and where possible, in bold letters.
"The contents, names and physical addresses of manufacturers and producers, assemblers or packagers as well as the manufacturers or production and expiry dates of all goods shall be written visibly," she said, adding: "The nutrient content of food products shall be clearly spelt out on the package they are contained."
Ms Jaiteh said further that suppliers or providers of goods or services should be made to provide consumers with a contract, receipt, ticket, invoice, business record or other documents that embody, or give evidence of the transaction.
Read Other Articles In Article (Archive)